The festival returns to the Ventura County Fairgrounds April 2-5, 2020 https://www.youtube.com/watch?v=dP95nOZTYIs Skull &...
Golden Gate Wingmen at the Sherman Theater in Stroudsburg, PA April 12 2019 Photos and Words by Brett Armstrong
Golden Gate Wingmen performing live at the Sherman Theater in Stroudsburg PA on April 12 2019 Full show audio. Taped by...
Rare birds Golden Gate Wingmen have announced a series of tour dates for late 2018.  The all...
John Kadlecik, On A Wing and a Prayer Tour dates announced for solo, Fellowship of the Wing and Golden Gate Wingmen ...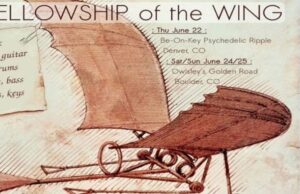 John Kadlecik announces the premier of the Fellowship of the Wing plus Spring and Summer tour dates solo and with the John Kadlecik Band...
August tour dates for Golden Gate Wingmen. Band Photo below by Jay Blakesburg To Submit a review or story for consideration hit us at lmnandr@gmail.com Check...

Golden Gate Wingmen
Irving Plaza NY NY
March 26 2016
A trip to NYC is always a memorable thing for anyone who doesn't live within 100 miles of the fabled city. To come in for a concert, this was one of the most exciting things when I was younger. Now that I'm older, it's no different- it's still a blast to go into the city to catch a show. To catch Golden Gate Wingmen? Now that's a real good time.

Golden Gate Wingmen
Sherman Theatre Stroudsburg PA
March 24 2016
Ryan O'Malley wait to see his old friend Jeff Chimenti and the rest of Golden Gate Wingmen for their first appearance at the Sherman Theatre in Stroudsburg PA. We've included full audio of the whole show and some great photos.

Golden Gate Wingmen
New Flights Announced
More to Come..
Despite the rumors of a grounding of the most joyous flights in improvisational music, Golden Gate Wingmen have announced some plans for Spring of 2016. The super group is comprised of members of DSO, Dead and Company, Furthur, Phil Lesh and Friends, Ratdog, Primus, Billy and the Kids and Tea Leaf Green- all within one four piece band..