New Orleans Jazz and Heritage Festival has many amazing ancillary events happening during the same time as Jazzfest. This is part three of the review with words and photos by Andy J. Gordon.
Another annual tradition at night during Jazz Fest is a tribute show by Karl Denson's Tiny Universe. This year the Rolling Stones sax player and multitalented bandleader took over the Orpheum Theatre on May 4 to guide his Tiny Universe through a set of Amy Winehouse songs. Denson brought Danielle Ponder to take on the vocal duties. Before Ponder came out, the band warmed up with a few of their instrumentals that featured dynamic solos by guitarists DJ Williams and Ricky Giordano. Denson traded sax solos with trumpeter Ricio Fruge, while keyboard player Kenneth Crouch knocked out melodic organ passages.
Once Ponder came onstage, she wowed the crowd with her booming, soulful voice. In spite of her clear talent, Ponder told the crowd she was nervous and wanted a sing along for Winehouse's "Just Friends." Once she got over the jitters, Ponder belted out several Winehouse tunes including "Monkey Man" and "Love is a Losing Game." When Ponder left the stage, Denson introduced his daughter Sofie, who came out to sing "Do Me Good." Dad claimed it was her first ever performance in front of a crowd, quipping "She's actually a zoologist. This is a little detour." Ponder came back for a duet with Sofie to close out the entertaining show.
Read part one of the Night Time Jazz fest review by Andy J. Gordon here.
Heavy hitters were at the Orpheum the following night. George Porter Jr. & the Runnin' Pardners opened the show. Porter led his quartet through several classic funk tunes including The Meters' "Cissy Strut," his "I Get High," Professor Longhair's "Hey Now Baby" and a fine version of Bobby "Blue" Bland's "Turn On Your Lovelight." Gov't Mule closed the show. They are known to attract all sorts of famous guests during their nighttime Jazz Fest gigs.
Warren Haynes led the band through several of their blues based songs including "Traveling Tune," "Wake Up Dead" and "Street Corner Talking." Matt Abts' drum fill on "Game Face" energized the audience and their enthusiasm peaked with the band's first ever cover of the Talking Heads' "Same As It Ever Was." The Cure's Reeves Gabrels was the night's first special guest. He played a few fuzzy guitar solos on Radiohead's "Creep" and a psychedelic "Apollo Honey Jam." Gabrels exchanged solos with Haynes on Neil Young's "Rockin' In The Free World" that transitioned into Jimi Hendrix's "Machine Gun" before rumbling back to "Rockin' In The Free World."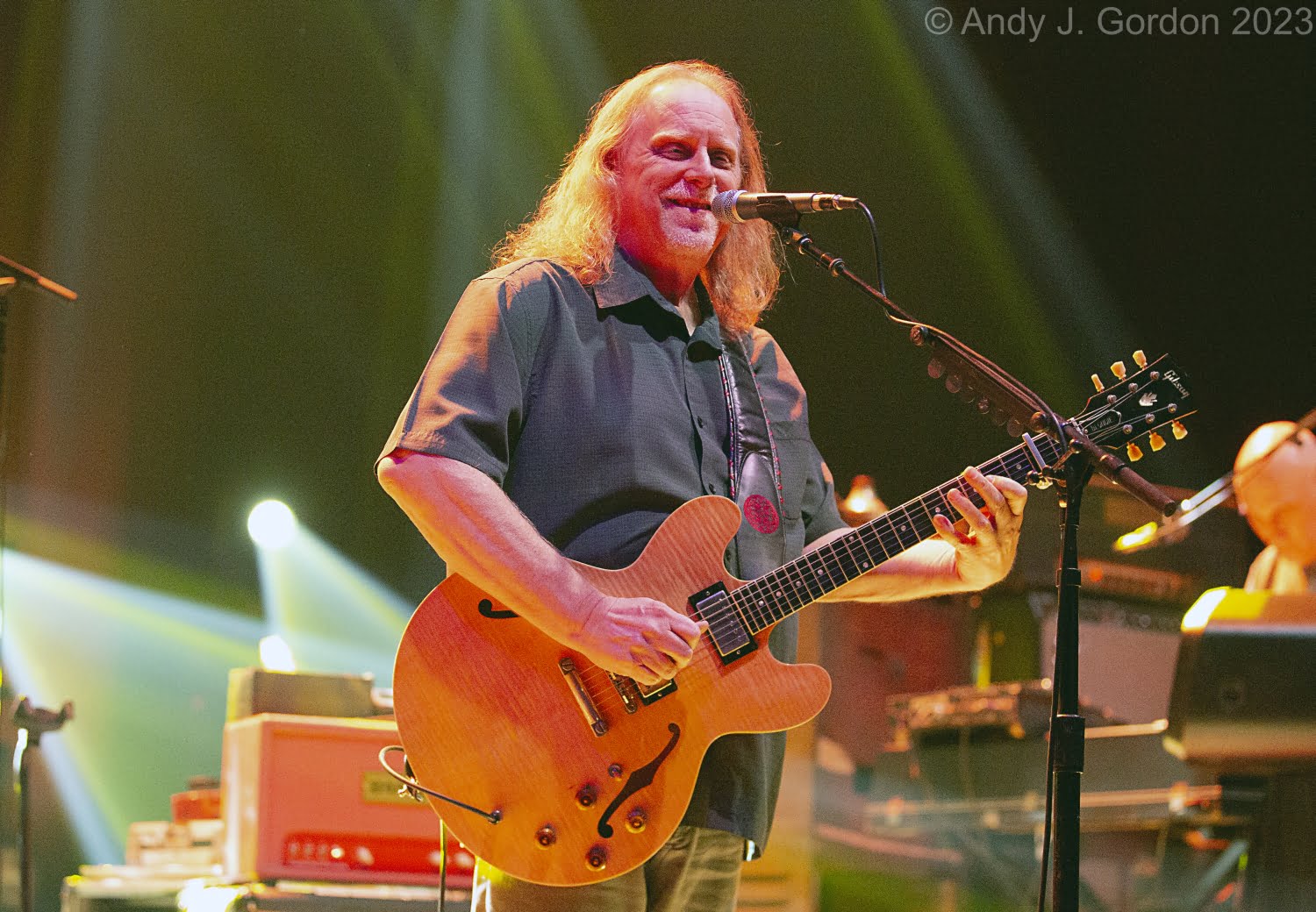 After a set break, a cavalcade of friends showed up for more classic covers. The Levee Horns added fine arrangements to Blind Willie Johnson's "John The Revelator" and The Band's "Stage Fright." George Porter Jr. and Dumpstaphunk's Ivan Neville came onboard for the debut of "Dreaming Out Loud," the Mule's brand new track that they recently recorded with Neville. Porter, Neville and the Levee horns stayed for Little Feat's "Sailing Shoes." Smoky Greenwell joined the jam for Robert Johnson's "32-20 Blues." Porter helped out on a rowdy version of the Mule's "Thorazine Shuffle." The encore featured both Gabrels and Greenwell. They fired off a forceful version of Tom Wait's "Get Behind The Mule" to finally end the memorable performance.
Since NOLA is a 24-7 town, shows often start in the wee hours of the morning. A marathon show called Bayou Rendezvous started the night of May 5 and took place at Howlin' Wolf, including a set that started at 1:30AM on May 6. We stayed up well past our bedtime to catch Cool Cool Cool play that set. The new band consists of the majority of the Turkuaz musicians. Their show included several soul and classic rock covers which did not disappoint.
Read part two of the Night Time Jazz fest review by Andy J. Gordon here.
Shira Elias, Sammi Garett and Josh Schwartz sang beautifully on Sly and the Family Stone's "Sing a Simple Song." Their harmonizing on Fleetwood Mac's "The Chain" was sensational. The Horn Section played excellent arrangements throughout the set and each member took creative solos. Guitarist Craig Brodhead also played a few impressive improvisational solos. The group has been on a national tour backing Adrian Belew and Jerry Harrison for the Talking Heads tribute Remain in Light, so it was no surprise that they nailed "Walk of Life" and "Crosseyed and Painless" with all of the vocalists contributing. The crowd loved the set and we hope this talented group releases some new original music soon.
Check out the full gallery of photos from these shows by Andy J. Gordon here.
An all-star blend of local and national talent performed a show on May 6 at The Republic that was billed as Voodoo Dead. Local legend George Porter, Jr., was joined by Dead affiliate and guitar whiz Steve Kimock. His son John Morgan Kimock played drums and Jackie Greene sang and played keys. Wrapping up the star studded ensemble was moe.'s guitarist Al Schnier. Another guitar whiz with deep Dead connections, Papa Mali (who formed 7 Walkers w/Bill Kreutzmann) sang lead on "Mississippi Half Step" and at the conclusion, was serenaded by the band to celebrate his birthday.
The super group played two sets of Grateful Dead and NOLA based songs that the Dead had covered. All the heads in the audience got their jam on with excellent versions of "New Minglewood Blues," "Shakedown Street" and "Scarlet Begonias." Greene's vocals were eerily Jerry-like and his organ fills were spot on. Steve Kimock has the Jerry guitar sound nailed and he alternated inspired solos with Schnier all night. The local itch was scratched with Porter leading interpretations of "Iko Iko" and "Fiyo on the Bayou."
There are an endless number of shows to choose from on the Sunday night when Jazz Fest has finished. We like to close it out with local heroes at a historic club. Dumpstaphunk epitomizes the NOLA sound. They are experts with traditional and modern funk, while also incorporating other music styles. The band has had the second Sunday gig at Tipitina's for several years. They always bring the funky heat and this year's May 7 show was extra special. The band is celebrating 20 years – they formed as the result of a "one time" Jazz Fest gig and eventually it became the primary project for the bandmembers. To honor their history, the band invited each of their former drummers to sit in and play songs from their deep catalog. They also expanded their horn section by adding Brad Walker and John Michael Bradford to the formidable Alex Wasily and Ashlin Parker.
While keyboardist Ivan Neville with bassists Tony Hall and Nick Daniels III handled the vocals, the emphasis was on the drummers. Raymond Webber started off on "She's Music," Turn This Thing Around" and "Living In a World Gone Mad." Nikki Glaspie took over a second drum kit and both she and Webber played on "Gasman Chronicles." Webber departed and Glaspie sang lead on "If I'm In Luck." She also sang Led Zeppelin's "Immigrant Song." Alvin Ford, Jr. came on for "Dancing To The Truth" to play double drums with Glaspie. She left and he stayed for "Justice" and "Do You." Current drummer Deven Trusclair stepped in, joining Ford for "Dumpstamental." Trusclair finished out the show that ended in the early morning with a rowdy "United Nations Stomp."
The live music scene in The Big Easy is always hopping, but during Jazz Fest it goes into hyperdrive. This year's club and special shows around town during the festival were a mix of local talent, out of town stars and inventive mash ups. We cannot wait for next year when more unique shows will take place throughout the greatest music city in the world.
Photos courtesy of Andy J. Gordon ©2023
FB: andy.j.gordon1
IG: andyjgordon1
Check out the full gallery of photos from these shows by Andy J. Gordon here.
Read part one of the Night Time Jazz fest review by Andy J. Gordon here.
Read part two of the Night Time Jazz fest review by Andy J. Gordon here.
To submit an article an article or review, or to just say hello hit us at [email protected]
Also- check out the search feature in the upper right hand corner and search for your favorite artist, event, venue or genre. You'll be surprised at what you find!
Check out the Live Music News and Review.com Facebook page for updates and announcements.