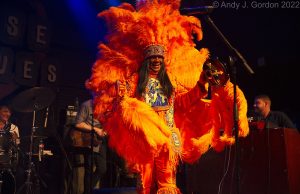 The Jazz and Heritage Festival continues in the Crescent City by Andy J GordonThe New Orleans Jazz & Heritage Festival takes place over two...
KARL DENSON'S TINY UNIVERSE Announces THICK AS THIEVES FALL TOUR 2019https://www.youtube.com/watch?v=PX46P3GpRa8Karl Denson's Tiny Universe has announced 'Thick As Thieves Fall Tour 2019.' Hot off the...
Including dates with The New Mastersounds, Lettuce & Dopapodhttps://www.youtube.com/watch?v=JFLGuBRtWeAHeaded by Snarky Puppy's multi-Grammy-winning percussion duo of Robert "Sput" Searight and Nate Werth, Ghost-Note is an explosion of sound. With...
'GNOMES & BADGERS' Due March 8 from Seven Spheres Records: Special Guests Include IVAN NEVILLE, ANDERS OSBORNE, LUKAS NELSON, CHUCK LEAVELL, ADRIAN QUESADA,...