New Orleans Jazz and Heritage Festival has many amazing ancillary events happening during the same time as Jazzfest. This is part three of...
The festival returns to the Ventura County Fairgrounds April 2-5, 2020https://www.youtube.com/watch?v=dP95nOZTYIsSkull & Roses is a multi-day festival which celebrates the music and community that...
Peach Festival Montage Mountain Scranton PA July 19 - 22, 2018by Ryan O'Malley Check out the Live Music News and Review.com Facebook page for updates...
Voodoo Dead Irving Plaza NY, NY February 10 2017 By Gary Blicksilver Photos by Sharon Budman   To submit a review or story for consideration hit us at
[email protected]
Check...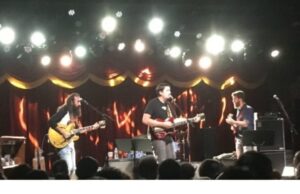 The Terrapin Family BandBrooklyn BowlSeptember 2, 2016By Gary BlicksilverPhoto Credit: Sharon BudmanFor a full gallery of Sharon Budman's photos, click here.Props out to Paul...
Trigger Hippy featuring Joan Osborn and Jackie Green at the Peach Festival 2012 From the video channel of Scott Tamburrinohttps://youtube.com/watch?v=zqsrwgIsvqg