A Night of Soul–Powered Rock & Roll at Hollywood Bowl August 14 2022 by Andy J Gordon
A trio of talented bands turned a balmy summer night at the historic Hollywood Bowl into an exploration of modern soul music. Nathaniel Rateliff & The Night Sweats, Durand Jones & The Indications and Celisse all could have been the headliner. Each band thrilled a crowd of Los Angeles music lovers on August 14, 2022 as their performances showed that soul music is still alive and appreciated.
Celisse is a prolific singer and guitarist whose only previous Hollywood Bowl appearance was as a backup singer for Melissa Etheridge a few years ago. Celisse reminisced about that performance when she told the audience, "I dreamed about one day playing my own songs at the Bowl." That day finally came and from the first notes of her all too brief four song set, her incredible voice and guitar chops mesmerized the crowd. She opened with "Get There," a rocking, blues-inspired romp. Her power trio (Solomon Dorsey on bass; Darren King on drums) helped her pull off a magnificent cover of Bill Wither's "Use Me" as Celisse delivered sultry vocals and nailed the iconic guitar riff.
With a strict Sunday night curfew at the Bowl, there was no time to waste, so after a very brief stage changeover, Durand Jones & The Indications came out for some infectious, retro-soul. The band incorporated contemporary R&B, elements of disco and modern rock into their performance. Durand Jones' and drummer Aaron Frazer's lead vocals, along with harmonies from the other band members seemed to channel the classic style of many Motown and Stax records.
The effective contrast between Jones' smooth, soulful voice and Frazer's higher pitched, soprano to falsetto range was the focal point of the set. Their voices were spectacular the entire show. Songs like "The Way That I Do'" "Don't You Know" and "Sea Gets Hotter" showcased the band's fantastic harmonizing as well as the other musicians chops. Lead guitarist Blake Rhein and keyboard player Steve Okonski shredded creative solos all set.
The highlight of the show was a medley of originals. "There Must Be," "Should I Take You Home," and "Didn't I" all cooked. The harmonized chorus on "Thin Line," with Jones singing over the band transitioned into Frazer crooning Smokie Robinson's "Ooo Baby Baby," which left the crowd in awe. The band closed out the show with popular tracks "Sea of Love" and "Witchoo."
Setlist
Smile
More Than Ever
Morning in America
Ooh Baby Baby
(The Miracles cover)
Thin Line Between Love And Hate
Is It Any Wonder?
How Can I Be Sure
Witchoo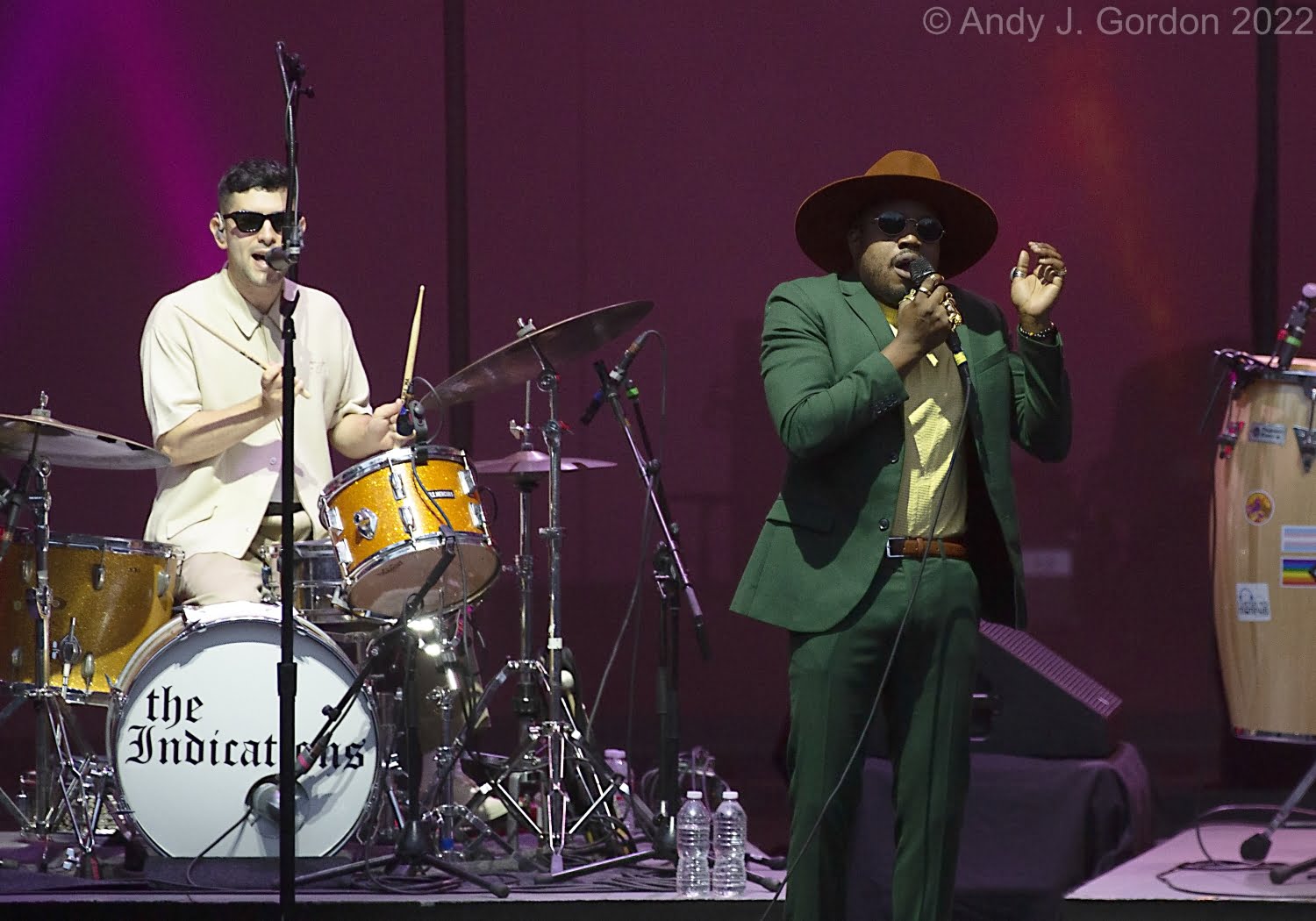 The show closer was Nathaniel Rateliff & the Night Sweats. There is no doubt who sings lead vocals for the Night Sweats. Nathaniel Rateliff was the focal point of the band, with a vibrant stage presence and powerful, raspy voice. Rateliff also played guitar and organ during the set. The band, including Joseph Pope III on bass, Mark Shusterman on keys, Luke Mossman on guitar and Patrick Meese on drums, played songs that spanned soul, R&B, rock, country and funk. An excellent three piece horn section played arrangements that were integrated beautifully into each song.
Rateliff commanded the stage as he belted out older songs from their catalog and several tracks including the funky "Survivor" from "The Future," the album they released in late 2021. Rateliff played organ and sang during the sultry "A Little Honey." He stayed behind the organ for two more new tracks, the soul ballads "Love Me Until I'm Gone" and "Face Down In The Moment." Face Down had a sweet horn instrumental intro and excellent harmonizing. For the melancholy ballad "And It's Still Alright," [from his 2020 solo album] Rateliff played acoustic guitar and was accompanied only by Shusterman and Luke Mossman. Mossman played a poignant, fuzzy solo during the song.
The full band came back to wrap up the set. Their up-tempo versions of "I'll Be Damned," "Coolin' Out" and "I Need Never Get Old" had the crowd up and clapping enthusiastically. The encore featured more audience participation. The band's breakout single, the church gospel revival sounding "SOB," had the crowd dancing, clapping and singing along to the humming "oo, oo, oo" segment. The band ended the show with "Love Don't," another foot-stomping song from "The Future."
Nathaniel Rateliff & the Night Sweats concluded a raucous night of great music at Hollywood Bowl. It did not matter if guests bought tickets to see that band or Durand Jones & the Indications or Celisse. What they got were three bands that delivered brilliantly updated interpretations of old school soul, mixed with modern styles. No one left disappointed and everyone got more than their money's worth.
Setlist
You Worry Me
Look It Here
I'm on Your Side
Survivor
Baby I Lost My Way, (But I'm Going Home)
So Put Out
Li'l Honey
Love Me Till I'm Gone
Face Down in the Moment
And It's Still Alright
Hey Mama
I'll Be Damned
Coolin' Out
Intro
I Need Never Get Old
e: Son of a Bitch
Love Don't
Photos courtesy of Andy J. Gordon ©2022
FB: andy.j.gordon1
IG: andyjgordon1
To submit an article an article or review, or to just say hello hit us at [email protected]
Also- check out the search feature in the upper right hand corner and search for your favorite artist, event, venue or genre. You'll be surprised at what you find!
Check out the Live Music News and Review.com Facebook page for updates and announcements.