PLAYING IN THE SAND IS NOW CANCELED.
THE BAND REPORTED THE CANCELLATION WITH THIS ANNOUNCEMENT:
With much sadness and after great consideration of every possible scenario, the @PlayTheSand shows in Riviera Cancun on January 7-10 and January 13-16 have now been canceled by @CID_Presents due to the spiking COVID-19 cases…
Dead & Company and @CID_Presents tried everything possible to bring normalcy and to deliver a great experience and amazing music, but with each day it became increasingly clear that canceling is the correct thing to do for the fans and for our crew…
Please refer to the Playing in the Sand email that will be sent shortly with all details about refunds. See you soon, hug your loved ones, stay safe and be kind. (3/3)
Events leading up to the cancellation:
On January 5 Dead and Company announced that John Mayer had tested positive for Covid-19 and would not be able to perform at Playing in the Sand. This event has become a staple for fans and band members of Dead and Company as an annual pilgrimage to Mexico for an amazing weekend of music.
Per Rolling Stone, "Today, just prior to leaving for Mexico, per his physician, @JohnMayer tested positive for COVID-19 and will be unable to perform at the upcoming 'Playing in the Sand' event in Riviera Cancun January 7-10," Dead and Company posted on Instagram. The weekend will now feature Dos Hermanos con Amigos." The post lists Mickey Hart, Bob Weir, Jeff Chimenti, Oteil Burbridge, Jay Lane, Tom Hamilton Jr., as well as special guest Margo Price among the performers remaining on the lineup."We came down here to have fun. Unfortunately some of our brothers cannot make it but fun is what we're going to have," Bob Weir added in the post."
Things started to go awry last week when long time Grateful drummer Bill Kreutzmann announced that he could not go to Mexico due to doctor's recommendations and ongoing health challenges. Rolling Stone is reporting that it is due to a heart condition.
"Playing in the Sand has become my favorite tour stop in recent years and there's so much about it that's just so great. And thus, it is with a heavy and still recovering heart that I have to relay a note that I received from my doctor this morning, ordering me to sit this one out."
JRAD guitarist (also of American Babies, Ghost Light, and Brother's Past) Tom Hamilton is being exported to Mexico to fill in on lead guitar. These latest developments are a part of the latest wave of live music engagements being altered by the surge of Covid-19 nearly two years into a global pandemic that has been elevated of late by the Omicron variant. Dead & Co have implemented significant Covid-19 protocols for attendees of the event and those are listed here.
The event was to spread over two weekends including JAN 7 – 10 and JAN 13-16 2022.
Billy Kreutzmann has missed a couple of shows recently including Fall 2022 at Red Rocks in Morrison, CO. in those cases Jay Lane, drummer from Ratdog, Furthur, Primus, Golden Gate Wingmen, and most recently the Wolf Brothers filled in alongside drummer and percussionist Mickey Hart.
There has been speculation about what may happen with Dead & Company, and the scene itself as the march of time continues. The inevitable aging of original band members makes performing for them increasingly difficult. John Mayer has recently gone on record as saying that Dead & Company will continue onward even as original Grateful Dead band members are unable to continue with the band. Other Grateful entities from Dark Star Orchestra to Joe Russo's Almost Dead continue to carry the torch of the Grateful Dead and their significant songbook. Phil Lesh continues to gather friends in different ensembles to play the music that he has been performing since 1965.
Some fans had been wondering whether or not the events would even happen. Others are lamenting that they bought tickets to see a certain band with certain members, and that the band that will perform will not be those members. Since its inception, the Grateful Dead has been a band that featured different band members, and adjusted as a result of circumstance. Even the death of the most revered band members from Jerry Garcia to Pig Pen, Keith Godchaux or Brent Midland and others had not deterred the juggernaut that is this band and its offspring.
For a short window of time the band was offering refunds and tickets had become available on secondary markets. The Omicron surge has grown to the point where the United States alone has grown to one million cases on a recent day's count. The concert industry in general has been thrown into turmoil as Phish delayed their NYE run, and bands across the world have had to change plans at the last minute from Max Creek to LCD Sound system, to nearly all shows. Which is better- to delay a special event, or to pivot in whatever way possible so that the age old adage of the Show Must Go On rings true even in these most challenging times?
Furthur and Dark Star Orchestra guitarist John Kadlecik may have been a choice to hop into the band, but he himself had reported testing positive in the final days of 2021 and was forced to jump off dates scheduled with JGB and Melvin Seals.
Margo Price was clearly excited about coming to Mexico at Bobby's request, "when @BobWeir texts you and if you want to sit in with Dos Hermanos con Amigos & @deadandcompany you say yes."
Those who are avid Dead / Weir watchers have been able to read Bobby's mind a little bit. While Dead & Company has been in full swing, Bobby himself has been experimenting with new band ensembles, originally as a trio with Don Was and Jay Lane called The Wolf Brothers. You could see during the pandemic the expansion of this concept with the adoption of 'The Wolf Pack,' a significant backing band that included keys, pedal steel and a thick horn section. This band explored the music in a fuller, lusher, and more orchestrated lineup. While those who follow Dead and Company might complain that band has paced the music in a much slower, at times glacial, pace- you could see with the Wolf Pack Weir's vision. Breathing fully into the material and exploring every nook and cranny of the music, mining for new gold. Dates are scheduled for 2022 with this full lineup and may portend Weir's thoughts on his own future in or out of Dead and Company.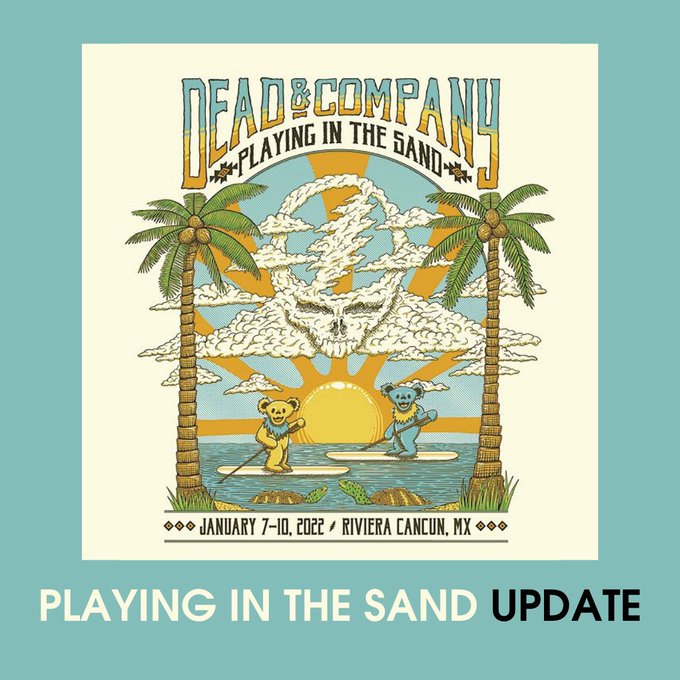 Thank you to Sharon Budman for reporting and editorial help on this article.
This article has been revised several times as developments are presented.
To submit an article an article or review, or to just say hello hit us at [email protected]
Also- check out the search feature in the upper right hand corner and search for your favorite artist, event, venue or genre. You'll be surprised at what you find!
Check out the Live Music News and Review.com Facebook page for updates and announcements.