On July 07 2019 The Roling Stones appeared at Gillette Stadium by David Boatwright
The Stones rolled into Gillette Stadium on their third US tour of the States since turning fifty as a band at the start of this decade. All four principal members of the group have faced down serious health issues during that time, but the show must go on, and go on it does. Coming out of the London based DIY skiffle/blues boom of the early 60's the Stones rose from practicing in a squalid apartment to scaling the capital city's club scene and then with a recording contract, a borrowed Lennon/McCartney tune and subsequent increasingly successful US tours to a place at the top of the rock scene at the close of the 60's.
There were hiccups along the way. Brilliant founder Brian Jones (guitar, harmonica, slide guitar, piano, organ, dulcimer, sitar, etc.) left the band and tragically drowned only weeks later. His replacement, the fluid blues/rock guitar virtuoso Mick Taylor cut four of their most highly regarded albums but abandoned ship in the mid 70's.
Recruiting the redoubtable Ron Wood from the Faces, the Stones ricocheted off the "Kill Rock Stars" punk sentiment of the late 70's and came up with the "Some Girls" LP and the hit "Start Me Up" which remains in classic rock rotation to this day.
I've been a fan from way back, but this was only the third time I've caught them "live." I'm usually too busy with my own gigs or too cash-poor to queue up for a small seat in a giant stadium. I saw probably one of the last gigs of the original band in '66, one of the first with Daryl Jones on bass in '94 and now again on this July 4th weekend at the home of the football Patriots.
Bluesman Gary Clark Jr. opened the show at the still sun-kissed stadium at 7:30 sharp with his version of Bright Lights. He warmed the crowd up nicely with a blues rock set featuring 2nd guitar, keys and drum and bass.
The crowd's energy surge reached a peak as a voice announced, "Ladies and Gentlemen, would you welcome please, the Rolling Stones". A burst of opened tuned "Human Riff" aka Keith Richards guitar and we're off. Four flat-out rockers open the show: "Street Fighting Man", "It's Only Rock n' Roll," "Tumbling Dice," and "She's So Cold," before Gary Clark, Jr. returns to help out on "Ride 'Em On Down" from the Stones' 2016 all blues LP.
A two-song acoustic set on a smaller mid-crowd stage follows, comprised of Satisfaction flip-side "Play with Fire" and the Gram Parson's-inspired "Dead Flowers." Three songs from the turbulent '68-'69 period follow, with Bernard Fowler on congas for "Sympathy for the Devil," Sasha Allen adding a gospel touch to the ballad "You Can't Always Get What You Want," and keyboardist ex-Allman Brother Chuck Leavell's cowbell setting the pace for "Honky Tonk Women."
The Rolling Stones have recorded half a dozen LP's since 1981's "Tattoo You," but that material rarely bothers their set-lists. Half the songs tonight are from the 1960's and most of those from that crucial '68-'69 period when they resumed "live" playing after a two-year hiatus. "Jumpin' Jack Flash," "Street Fighting Man," "Sympathy for the Devil," "Gimme Shelter," etc. are the tunes where the Stones tires hit closest to the road of history, and that's probably what the majority of this huge crowd has paid to hear.
Keith Richard's two song set varies with a heart -felt ballad "Slippin' Away" from 1989's "Steel Wheels" and the always gutsy two fingered salute to the stuffed-shirt authorities of the world, "Before They Make Me Run." "Miss You" gives bassist Daryl Jones a chance to flex his chops before a dark "Paint It Black" leads into the most protracted set piece of the night, "Midnight Rambler."
It's ironic that this track was one of the last LP tracks to feature the original five man lineup,as it seems to embody everything they've been about since the beginning. This "blues symphony" rambles through tempo and volume changes as it warns us of the 'midnight ramblers" of the world, society's malcontents who will eventually "smash down all your plate glass windows, put a fist through your steel plate door." Scary stuff from a deep blue pool of human experience. Mick Jagger quotes the great blues singer Robert Johnson as the song winds down to a stop: "I've got to keep movin', I've got to keep movin', blues fallin' down like rain, blues fallin' down like rain" he sings, before the band comes to a complete halt in a sonic rail station of the old South.
Now 50,000 plus souls twist in swaying anticipation before Jagger returns with, "Well ya heard about the Boston…Bamm" and a away they go on a blues boogie conclusion to this epic piece of rock. Wealthy and successful as the Stones may be, let it never be said that they didn't stand up for the prophets of the lowest of underclass, the bluesmen of the 20th Century. "Start Me Up" signals the home stretch of the show, followed by signature song "Jumpin' Jack Flash" and "Brown Sugar," which despite it's rockin' appeal recounts ugly events from our racially distorted and disturbed past.
But wait, there's more! The group returns to encore with a moving "Gimme Shelter," featuring the alluring Sasha Allen again followed by "(I Can't Get No) Satisfaction," the tune that really broke them in the States back in 1965.
Put it in the books! All bands should take inspiration from these guys. If you check out your early Grateful Dead history, you'll see that they were modeled on the Stones with their original two guitar, bass, drums and singer line-up. As Neil Young once sang, "Hey hey, My, my rock n' roll will never die." Amen to that brother.
Setlist
Street Fighting Man
It's Only Rock 'n' Roll (But I Like It)
Tumbling Dice
She's So Cold (by request)
Ride 'Em on Down (Eddie Taylor cover) (with Gary Clark Jr.)
2120 South Michigan Avenue
B-Stage / Acoustic:
Play With Fire
Dead Flowers
Sympathy for the Devil
You Can't Always Get What You Want
Honky Tonk Women (followed by band introductions)
Slipping Away (Keith Richards on lead vocals)
Before They Make Me Run (Keith Richards on lead vocals)
Miss You
Paint It Black
Midnight Rambler
Start Me Up
Jumpin' Jack Flash
Brown Sugar
Encore:
Gimme Shelter
(I Can't Get No) Satisfaction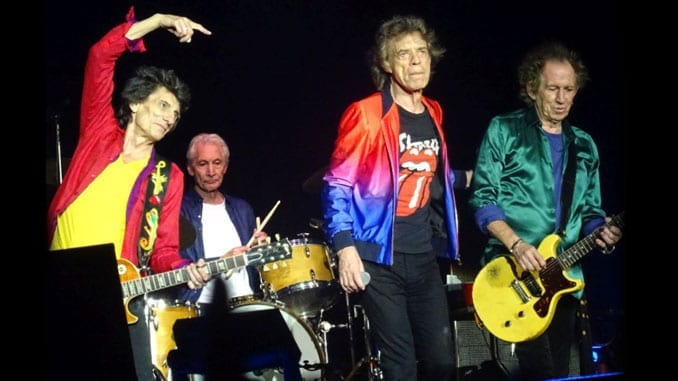 Check out the Live Music News and Review.com Facebook page for updates and announcements.
To submit an article an article or review, or to just say hello hit us at [email protected]
Also- check out the search feature in the upper right hand corner and search for your favorite artist, event, venue or genre. You'll be surprised at what you find!