Fred Kavli Theatre, Thousand Oaks Civic Arts Plaza hosted Eric Burdon and The Animals, Thousand Oaks, CA November 15 2019 by Larson Sutton Photos: Kirstin Bonning.
As time ticks off the last few weeks of 2019, the corresponding year-long fiftieth anniversary of everything 1969 also comes to a close. With it also comes the last look at five decades since Woodstock, and that galvanizing moment culturally and musically of the '60s generation. Yet, one artist who continues loyally to embody the spirit of those three August days in the mud, but, ironically, did not take the stage at that famous fest, is Eric Burdon.
Burdon did perform at Monterey Pop in 1967, the inspiring precursor to the Bethel event two years earlier. He was, as well, a progenitor of combining the British Invasion rock of his outfit, The Animals, with the heady pop of Eric Burdon and War; if anyone, Brit or otherwise, represented the swing of psychedelic San Francisco as 1970 dawned it was Burdon. So, when the venerable veteran took the stage with his six-piece band to a nearly-full Fred Kavli Theatre, and proceeded to run through a taut, hour-plus set of classics and deep cuts, he reminded so many of both the flower and the power of those
flower power days.
From a show earlier this year:
Following a brief intro by his friend, actor Malcolm McDowell- himself a living monument to that wildly creative era- Burdon appeared, sauntering on to the floating groove of "Spill the Wine." He waxed poetic behind Beat sunglasses, his hair white and spiked, his clothes charcoal in color and workmanlike, building coolly to the familiar chorus. It was a path he took throughout the evening; unhurried in his delivery until the tension needed a release, then belting out the upper register refrains of some of his most recognizable hits- from "When I was Young" to "Soul of a Man."
He dipped into the back catalog, too, getting "out there" on "Anything," a track he admitted writing while stoned, and "White Houses," the latter referencing his impressions of so many of the oversized residences he saw upon his first arrival in Southern California many years before. He was ten songs into his set when he went for the peak, following the indelible opening riff with an equally striking vocal on "House of the Rising Sun." Burdon was smooth, even if at times punky and defiant, warding off any notion that time he left him softer; like the most interesting guy in the room, he looked like the one with
all the great stories.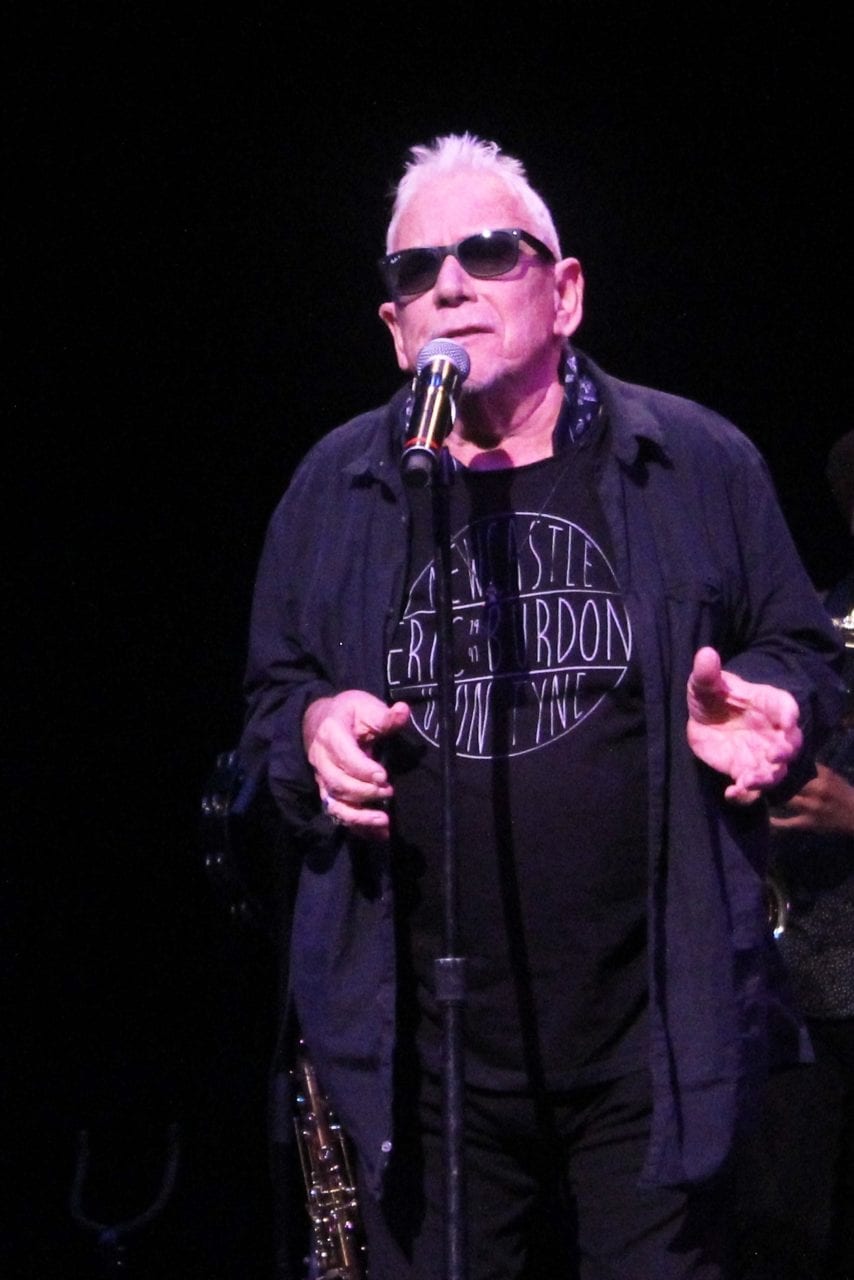 He was appreciative of his band, stocked with young talent, and gave ample room and points of praise to them as they filled in solos with stirring performances and big smiles. During the two-song encore, Burdon and his guitarist doubled on the melody line of Jimi Hendrix's "Third Stone from the Sun," inserted into "We've Gotta Get Out of This Place," before capping the concert with the rocking finale, "It's My Life."
It has been Burdon's life, as the last song typified, guided by an enduring and rebellious streak that seems to run through both him and his music. This was not a trek on the nostalgia train. This was Eric Burdon and the Animals representing a history of over 50 years of music in the present with an appearance filled with strength, invention, and fire.
Drop us a line at [email protected] to submit your review or live music news story or feature.
Check out the LMNR facebook page for announcements and additional content.