Johnny D's Uptown
 in Somerville MA to close after more than 45 years.
Next six months to be a celebration of their history and music.
To Submit a review for consideration hit us at [email protected]

Check out the Live Music News and Review.com Facebook page for updates and announcements.
Carla DeLellis took over running Johnny D's after her parents and continued the tradition of amazing music both local and national.  Unlike most clubs that close when the money runs out, the neighborhood changes, or the interest in the genre of music subsides, Johnny D's is taking a victory lap and calling it a day.  I personally have seen many great shows there including Paranoid Social Club, Comanchero, Midnight Spaghetti, Jounce, Garaj Mahal, Hot Day at the Zoo, Start Making Sense got their Boston start in the room, and many others.  The sound system was really impressive for a small capacity (300, if you pack them in..) and the layout was just perfect for anybody who wanted to see a show.
"Such an inspiring room to play! Thanks Johnny D's for years of wonderful memories!"  – Eric Levy (Garaj Mahal, Night Ranger)
Legendary bands rolled through the room, the sound was always immaculate, and you just knew you were in for a good time.  DeLellis addressed her plans for the future in an open letter emailed late yesterday.
"Together we have presented live music in a venue that has been around since 1969.   Johnny D's Uptown is known and loved world-wide.   And doing this as a locally owned, independently operated, and community spirited business!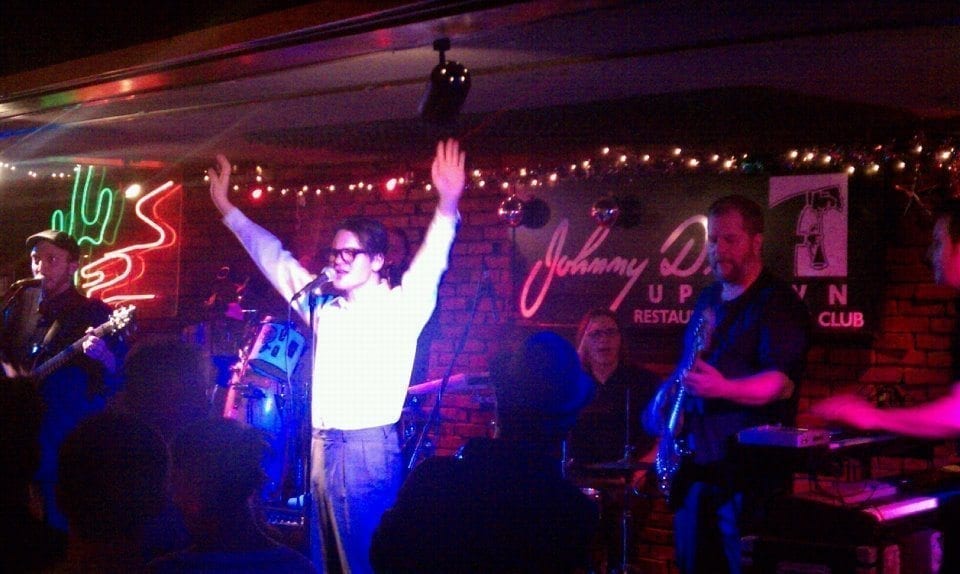 We have launched careers and given legends a small intimate room.  We supported not just national but our local artists and raised money for countless non-profits. Through live music, we have made lives brighter, and transported audiences to different places, times, and cultures.  Amazing shows. Amazing memories.  What a blessed life.  Thank you for being a part of it.
All things change eventually of course.  And I have decided to develop the property that houses Johnny D's into a multi-story mixed-use commercial and residential building…  But- from now,  through January 2016 we are going to CELEBRATE.  
In addition to the shows we have currently booked through 2015, we will now be conside
ring the artists and agents that have been on our journey, and begin a Legacy Series.  An integral part of the Legacy Series will include having Independent businesses sponsor shows that will also benefit our beloved Somerville Homeless Shelter.  We will be documenting the last few months with a book of stories and pictures and a city approved sidewalk of 'stars' outside.   After this great time, the development is planned to start with a complete demolition in the late spring of 2016.  
But for now, we party."  Carla DeLellis Johnny D's Owner
Local photographer and live music fanatic John Collins remembers Johnny D's well, "To me, Johnny D's feels like an updated version of "Cheers" with great music! You can be up close with the acts, enjoy good food and adult beverages in an intimate atmosphere supported by a professional and attentive staff. My favorite memory of JD's is meeting and becoming really great friends with some people at an epic "Start Making Sense" show years ago, starting a friendship that will be decades long with them, and also the great members of SMS!  Johnny D's is just the kind of place where that happened."
UPCOMING SHOWS AT JOHNNY D's
Front Country 07/23/15 Thu 
Steeleye Span 07/24/15 Fri 
J.P. McDermott 07/25/15 Sat 
Peter Parcek, The Party Band and Ben Knight 07/31/15 Fri 
Run for the Roses and Uncle Johnny's Band 08/01/15 Sat 
Eric Lindell and Amy Fairchild 08/04/15 Tue 
Stan Ridgway and Greg Klyma 08/05/15 Wed  
Gal Holiday And The Honky Tonk Revue 08/07/15 Fri 
Booty Vortex 08/08/15 Sat Johnny D's Somerville, MA
Nathan & the Zydeco Cha-Chas 08/12/15 Wed 
Erin Harpe and the Delta Swingers 09/05/2015 
To Submit a review for consideration hit us at [email protected]

Check out the Live Music News and Review.com Facebook page for updates and announcements.
MORE ARTICLES:
Night Two of Gratefulfest July 18 2015 Nelson Ledges Garrettsville Ohio  
Night one of Gratefulfest July 17 2015 Nelson Ledges Garrettsville Ohio
Check out Night One of the Recovered Series which featured Marco Benevento and The Primate Fiasco.
Review:  The Who Ohio Stadium May 15 2015 by Jack O'Handley
Review:  The Rolling Stones Ohio Stadium May 30 2015 by Jack O'Handley
Review:  U2  Chicago July 2 2015 by Jeff Rabin
Review:  The Dead  Chicago July 5 2015
Review: The Dead Chicago July 3 2015   
Fresh Hops out on national tour!
Chris Robinson Brotherhood, Melvin Seals and JGB with John Kadlecik The Warfield June 26 2015 by Steve Kennedy
Review of the Start Making Sense Boston Boat cruise from June 28 2015
Check out the review of two nights of My Morning Jacket in Columbus, OH.

RUSH R40 review June 23 2015 Boston MA
Adam Ezra Group release new video for Let Your Hair Down while out on national tour.

Check out the review by Marc Lovely of The Avett Brothers and Shovels and Rope from June 14 2015.
Check out the review of Golden Gate Wingmen at Toad's on June 14 by Miles Hurley.
Check out the review of Rusted Root, the Wailers and Adam Ezra Group from Hampton Beach, NH here.
Mike Gordon reviewed in Columbus OH.
Upcoming John Kadlecik and Golden Gate Wingmen tour dates.