Atwood's Tavern, Cambridge
Next appearing at Plymouth Music Festival, 7pm tomorrow/Sat 7/19
I have seen HJP a couple or few dozen times now, and of course I'm always struck by the charm that comes with this package. Upon first meeting, a year and a half or so ago, I was moved to comment on this- Hayley's inner being shines through in her manner and presentation, and it comes across authentically. It can't be contrived or manufactured, but once recognized, realistically and with gratitude, inner joy can be put to good use (not harnessed, mind you) just by letting it show. It's infectious, too; the experience has become part of my own awakening, and it attracts others of like character- case in point, the Primates. They're all charming!
I have noted before, often and effusively (it's been suggested) that I find these guys' musical prowess to be considerable. The total music package is far from mainstream; they call themselves 'folkadelic jamericana.' I would hate to use the word 'quirky,' except inasmuch as it can indicate individualism and originality; and, as far as pedigree or inspiration, I have been met with approval when describing Hayley Jane as a mix of Mae West and Janis Joplin with Jim Morrison and a touch of Joe Cocker. The Doors comparison extends to guitarist Justin Hancock as well; I'm sure I hear a goodly bit of Robbie Krieger in his tones and technique- and a hefty dose of Jerry Garcia as well.
Drummer Jesse Hayes, the longest-running Primate, is so very unique as to be beyond quirky. I've never seen another like him. He plays so much more than just the rhythm or the beat, but it goes beyond mere percussive embellishment. Jesse's drums, as Justin's guitar, are profoundly and fundamentally integral to this band's sound. Just listen as the sets build up, especially toward the end of the show; it's almost overwhelming without being bombastic. The sense of composition that comes through in each of their songs extends through both or all three sets, and as it all comes to crescendo and denouement, one looks back and wonders what was so amazing about it all… the obvious answer, of course, is the playing and the singing, all of it, the clear musical and personal Sympatico; but what I have detected as the mysterious, hard-to-define component, is the instrument that is Jesse's drum kit.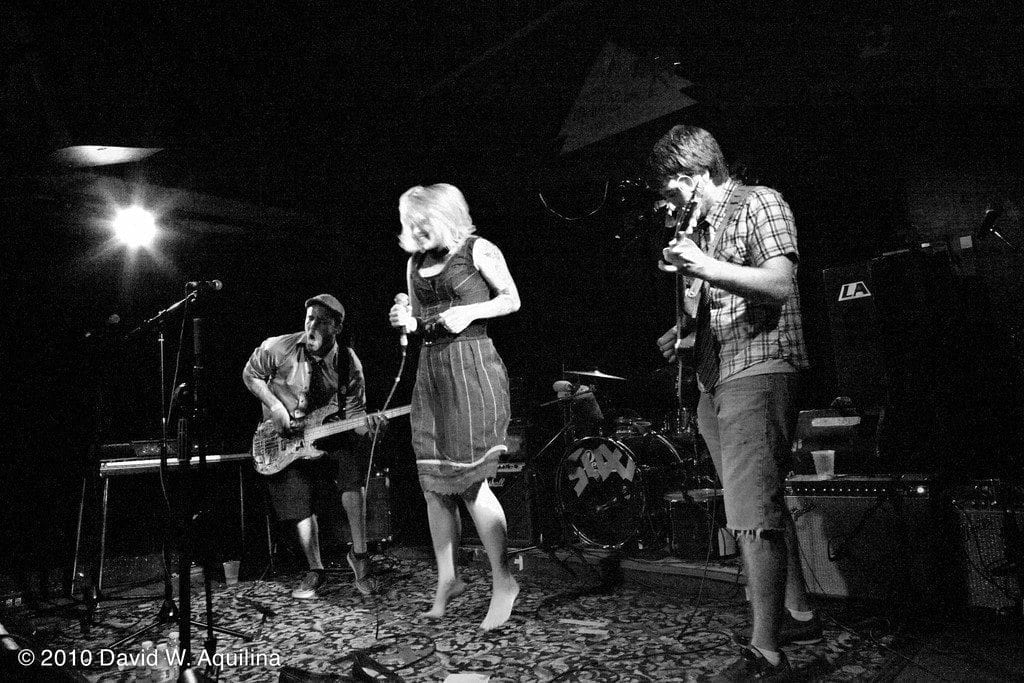 And then there's Josh. The bass- THAT's what's up! Josh T Carter escaped my attention for a while. He looks like a bass player. He acts like a bass player. He was still fairly new-ish when I came upon this band at that Barn Bash. So what's to notice? At first, I thought he was pretty good, of course quite good even. But as time has gone on and Josh has settled in, his mastery, like his sense of humor, has steadily become more apparent. He threw in a couple of solos last night, for instance, that seemed to me to have just as much of that elusive 'lead bass' quality as only a few I've seen.Billstock Bangstafunk, for example, Twiddle's original bass-man (or Zdenek, for that matter), Bob Laramie in Connecticut; or my friend Jeff King, all harkening back to the days of Jaco.
Just recently, I discovered Josh's other bands, Rapplesauce and Dillon 'N' Ashe, an urban funk band and an urbane guitar band respectively, and I learned an increased respect for one who can play so authoritatively and competently in so many different contexts.
Which brings us to Hayley Jane… A songstress and performer with both in her blood, she whirls and writhes and swirls and sings with such panache that none could long remain downhearted in her presence. Her joy is a joy to behold. What struck me with last night's performance, however, is the between-songs banter. Hayley will often say a few words of introduction; having written all the words, she well knows what each song is about. Her brief comments are all part of the poetry- I never quite caught on to that before last night. With dry wit and just a few words, we the audience is treated to a laugh and a hint of what's to come. But this is not idle chatter. The lady is baring her soul up there. She will wryly suggest that a song is about some collection of oddballs, or someone's oddball family, or mother, thrown out there for those who might happen to relate. We all know who the subject of the song is, really. Hayley seems to know a lot of crazy girls who have inspired her to write songs about them… One song in particular, I was advised, is about a heart-wrenching experience that I suspect was not so very long ago. Were I in similar circumstances, I don't know if I could sing about it so soon after. And it's a great song, too, by the way.
Atwood's Tavern is a nice place to see a band like HJP. It's comfortable and not-too-large; probably 200 capacity. The food is quite good, like upscale Tavern fare, with enough choices that pretty much any palette, appetite and budget can be accommodated. This particular night, I suspect I may have gotten a new waitress on her first shift. Ever. But then, this is America, where service, that for which we tip, is the final frontier. My fish tacos were good, anyway…
So it has become clear to me that this is poetry in motion, in real time, right here and right now. The chat between numbers is part of the performance, as is to be expected, and it's entertaining and charming indeed; but it's also much more than that: these are the words of an Artiste, a poetess baring her soul. Like any human learning to be, humor is used to lighten the load and carry the message so that all can relate. But it all hints at the substance, the depth, the joy and the pain of a soul engaged in life. Like any truly great artist, Hayley Jane is liv6ing her life and baring her soul for all to see. She does it with grace and dignity and occasional sloppiness, and always with charm. It's a beautiful thing to behold.