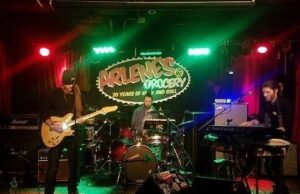 Flux Capacitor and Baked Shrimp Arlene's Grocery NY NY December 27 2017 Photos by Angel SimonTo submit a story or to just say hello, email...
Flux Capacitor heads out on national tour. Moonrocks tour to see the band stretch from the east coast to Denver and back. To...

Flux Capacitor and Little Compton Band
Electric Haze Worcester MA
January 28 2016
You have to catch your favorite bands when you can, if they're not from your area- so I took that opp when Flux Capacitor was swinging through New England on a chilly night in January. I was rewarded with fiery jams and compositional tunes that bordered on mathrock, but stayed earthy and familial.