New Orleans singer-songwriter, Anders Osborne, performs at Terminal West in Atlanta October 18 2019 by Michael Lasalandra
New Orleans singer-songwriter and guitarist Anders Osborne broke out two new guitars — replacing the ones he had stolen from him a couple months ago — as he powered through 13 songs from his vast catalogue before an enthusiastic crowd of devoted fans at Atlanta's Terminal West Oct. 18.
Osborne, who has been playing mostly solo acoustic shows this year, brought along his new band, featuring Chad Cromwell on drums, Ron Johnson on bass and Jonathan Sloane on second guitar. Cromwell, known for his playing with Neil Young, also produced Osborne's album, Buddha and the Blues, released earlier this year.
Oddly, Osborne played only one cut from that album, the title song, and played acoustic on it. But the rest of the set featured the hard driving, electric guitar-heavy sound that he has been known for over the years, with songs dating back to his 1995 album Which Way to Here.
Osborne seemed ecstatic to have the new guitars, a Gibson Les Paul given to him by the Gibson company and an old beat up classic Fender Stratocaster provided to him by fellow New Orleans guitarist Mike Zito, whom Osborne credits for helping him to get sober about 10 years ago. The Stratocaster replaces his beloved 1968 Strat, Blackie, which was among the several guitars stolen following a gig at California's Terrapin Station in August.
Although Osborne parted ways with his long-time band earlier in the year to focus on solo shows, he said he will be playing only full-band shows for the rest of the year. Judging from the tightness of this night's show, the new players fit in just fine.
The Swedish-born Osborne never stands still, always changing his sound and moving in new directions. Early in his career, his band included horns. Then he played as part of a power trio for several years. Then he added another guitar and, often, an organ.
Known for his confessional and soulful lyrics, his songs have often focused on his addiction and his battle for sobriety. The final song of the night, prior to the encore, was "Road to Charlie Parker," from his 2010 album American Patchwork. Parker, the great bebop jazz saxophonist, died at the age of 34 from the effects of substance abuse.
The energy level for this hard-rocking song was off the charts, and the crowd seemed to be almost levitating.
In recent years, Osborne has been a fixture on the jam-band scene and his extended solos are the stuff of legend. His playing reminds me of a cross between Jerry Garcia and Neil Young, but he has his own sound, kind of a gumbo of soul, funk, blues and rock. He did some inspired jamming with Sloane, a guitar player from Washington, DC, at this show, but the jams were shorter than in many previous shows, which was ok with me as I can only take so much of that.
As always, Osborne let the other guitarist shine and did not try to show him up. Sloane took the leads on "Let It Go," from Osborne's 2013 album Peace. Osborne played slide on this song, something at which he is a master.
I have seen Osborne probably 30 times, in venues from New Orleans to Boston. This show was right up there with the best of them.
Osborne introduced three new songs and on one, Picasso's Way, he even pulled out a harmonica, which I have never seen him do before. He wasn't Charlie Musselwhite, but he did okay.
A New Orleans resident for about 30 years, Osborne seems personally very content these days after some years of turmoil. The new album, Buddha and the Blues, reflects that state of mind. The album, recorded in Los Angeles with the help of legendary session man Waddy Wachtel and Benmont Tench (from Tom Petty's band), includes a number of hook-laden LA-type songs, and marks another change in direction.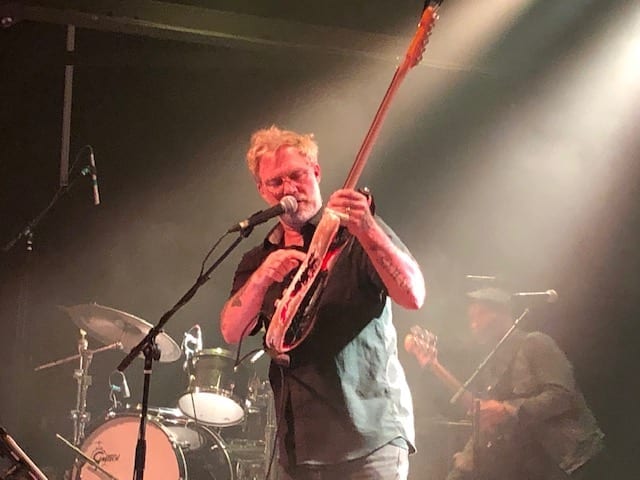 But on this night he chose to revisit many of his great songs from a variety of albums, including "Burnin' on the Inside" from 1995's Which Way to Here and "Stoned, Drunk and Naked" from 2001's Ash Wednesday Blues. His fans — he has a rabid fan base who call themselves YaYas, after a song called "YaYa," from 1999's Living Room album — loved every second of the two-hour show.
The High Divers, a quintet from Charleston, SC, opened the night with a 45-minute set of original rock tunes and were received well by the Osborne crowd.
Set List
Big Talk
Back on Dumaine
5 Bullets
Ya Ya
Real Good Dirt
Buddha and the Blues
Let It Go
Wind
Picasso's Villa
Burnin' on the Inside
Stoned, Drunk and Naked
Road to Charlie Parker
Encore
Peace
ABOUT THE AUTHOR
Michael Lasalandra is a music fan and an artist who paints portraits of musicians, among other subjects. His work can be seen at mlasalandra.com.
Check out the Live Music News and Review.com Facebook page for updates and announcements.
To submit an article an article or review, or to just say hello hit us at [email protected]
Also- check out the search feature in the upper right hand corner and search for your favorite artist, event, venue or genre. You'll be surprised at what you find!