SEVENDUST release music video for 'Unforgiven' and announce upcoming tour dates: Band Returns to the United Kingdom on Tour Starting December 1st Followed By 3 Atlanta Hometown Shows To Close Out 2018  
To submit a story or to just say hello, email us at [email protected]
Check out the Live Music News and Review.com Facebook page for updates and announcements.
(New York, NY) – Heavy metal legends Sevendust have unveiled a new music video for the latest song released from their 12th studio album, All I See Is War. "Unforgiven" is set in a post-apocalyptic world created from an idea by director Scott Hansen presented to the band. The concept is the world is rebuilding and the youth will be the ones to keep mankind going long after the adults are no longer around, a message that has been shared throughout society for decades.
"The 'Unforgiven' video was a great experience for me. I loved working with everyone on that shoot. It was like being in a movie for real and I hope we can do something like that again," explains vocalist Lajon Witherspoon. The latest song comes from the band's Rise Records' debut All I See Is War that was released in May. All I See Is War received critical acclaim with the Associated Press raving: "There are some people who sneer at hard rockers Sevendust, expressing dislike for the metal band for its lighter tones and stylistic changes.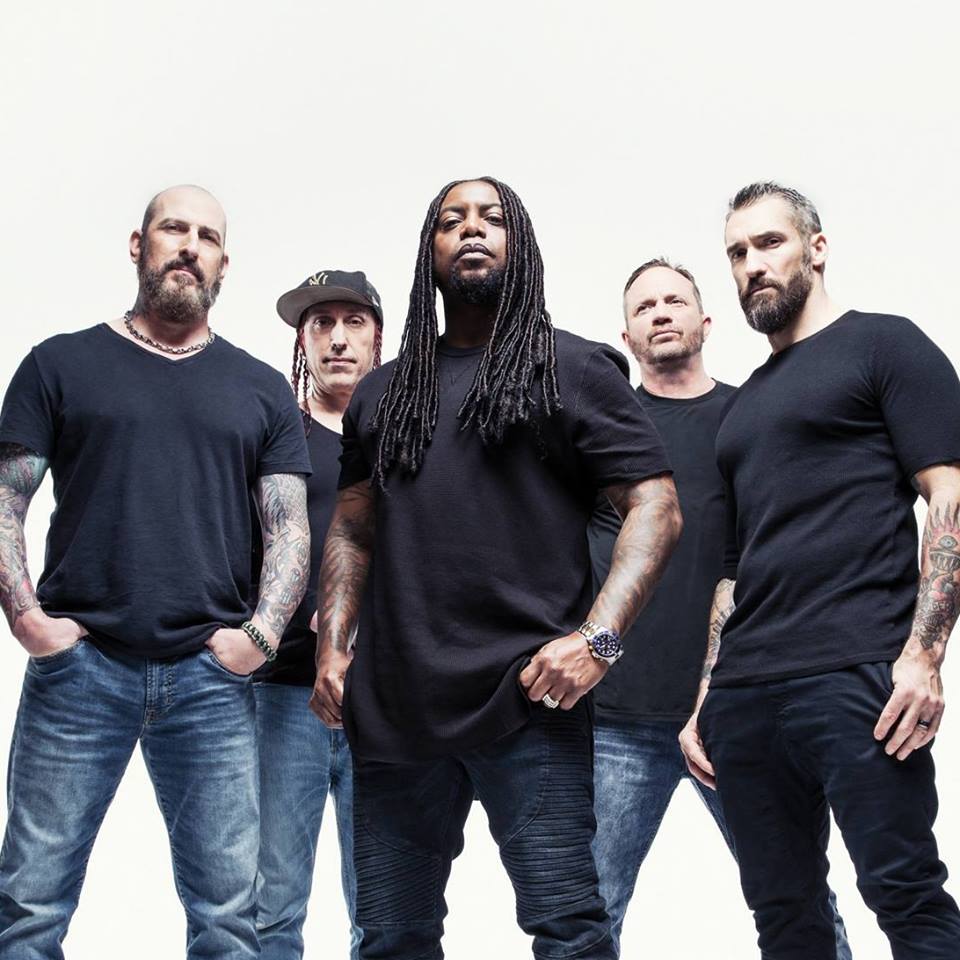 To which we respectfully say: blow it out your ears."
All I See Is War is now available everywhere and fans can head here to find out more information or to order a copy. The new album was recorded last Fall and was produced by Michael "Elvis" Baskette, known for his work with Alter Bridge; Tremonti; Slash; and others.
Sevendust recently wrapped a successful tour of the United States opening for Clutch. On December 1st, the band will make a long-heralded return to the United Kingdom for a week of headline dates. Sevendust will close out 2018 with 3 hometown shows in Atlanta at The Masquerade on December 28th, December 29th and December 31st. The New Year's Eve show will also feature the band performing their iconic album Home in its entirety. Fans can go to www.sevendust.com for more information on the tour, VIP packages and ticket purchase links to all shows.
In 1994, Sevendust first forged a familial tie amongst each other that translated into one of the most diehard audiences in the game. To this day, the connection between fans and the GRAMMY® Award-nominated gold-certified hard rock outfit only grows stronger. For their twelfth full-length and first release for Rise Records All I See Is War, the quintet—Lajon Witherspoon [lead vocals], Clint lowery [lead guitar, backing vocals], John Connolly [rhythm guitar, backing vocals], Vince Hornsby [bass], and Morgan Rose [drums]—did the best thing they could possibly do to combat all of the division in the streets and on social media; they went and made a Sevendust record—just bigger, ballsier, and bolder than before.
A trifecta of now-classic gold albums—Sevendust [1997], Home [1999], and Animosity [2001]— ignited their journey. Known as an equally intense and unforgettable live force, they've consistently packed houses around the world and decimated stages everywhere from Rock on the Range and Woodstock to OZZfest and Shiprocked! 2015's Kill The Flaw represented a high watermark. Bowing at #13 on the Billboard Top 200, it scored their highest debut on the respective chart since 2010 and marked their fifth consecutive Top 10 on the Top Rock Albums Chart and third straight Top 3 on the Hard Rock Albums Chart. Most impressively, the lead single "Thank You" garnered a nomination in the category of "Best Metal Performance" at the 2016 GRAMMY® Awards, a career first. All I See Is War represents yet another new beginning.
2018 Tour Dates
| | | |
| --- | --- | --- |
| DATE | CITY | VENUE |
| December 1st | Southampton, UK | Engine Rooms |
| December 2nd | London, UK | Electric Brixton |
| December 4th | Manchester, UK | Manchester Academy 2 |
| December 5th | Glasgow, UK | Garage |
| December 6th | Nottingham, UK | Rock City |
| December 7th | Bristol, UK | SWX |
| December 28th | Atlanta, GA | The Masquerade |
| December 29th | Atlanta, GA | The Masquerade |
| December 31st | Atlanta, GA | The Masquerade * |
* Performing Home in its entirety.
To submit a story or to just say hello, email us at [email protected]
Check out the Live Music News and Review.com Facebook page for updates and announcements.