The Dead
July 5 2015
Soldier's Field Chicago IL
some photos by Gabriel Jones
To Submit a review for consideration hit us at [email protected]

Check out the Live Music News and Review.com Facebook page for updates and announcements.
The day was beautiful, and after a nice lunch with my brother and a bunch of his friends we headed over late afternoon to the stadium. We entered through a neighborhood, and explored some of the lots and Shakedown spots for the first time this weekend. There was a cool scene happening up on one of the parking decks, but I had a wanderlust and tooled all over the museum campus that is adjacent to the stadium.  I wandered around with my icebreaker question of the day,  "Great day,  or greatest day?"   Most said, greatest day…
One of the big draws of this weekend for a lot of people I think was that it was a chance to gather in one spot and see people you haven't seen in a decade or more- you just knew that there were friends you hadn't seen heading to Chicago from all over the country. The same was true for me as before the show I saw a good friend from college, a friend I met in the Caribbean, a whole crew of friends from Seattle, and just everywhere I turned were old friends. This is one of the great things about the Dead, and any shared experience like this- the friends you make along the way.
From the video channel of Stubble Musiczine.
For the third night in a row I climbed up about a million stairs to the four hundred section, and again despite the heights, it was still a good seat, good sight lines, full view of the stadium, and excellent sound. We hung out and relaxed pre-show and I enjoyed some beverages and bright conversation as the anticipation built and built. We were all making song predictions, and n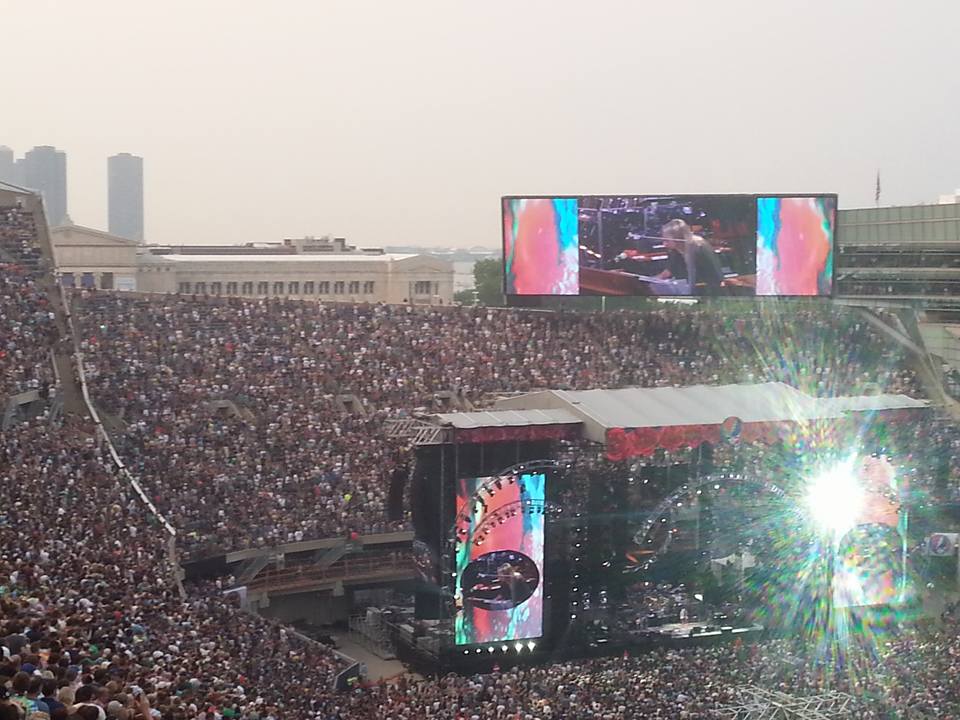 obody seemed to be asking for more than what could be delivered.
Review:  Chris Robinson Brotherhood, Melvin Seals and JGB with John Kadlecik The Warfield June 26 2015 by Steve Kennedy
The band took the stage and immediately started with a group hug and bow, which was a cool way to get started- buckle up everybody, cause here it comes.
Almost all of has predicted China Rider to start the second set, so it's appearance here as the show opener was a nice surprise to get it going. The energy on stage and in the stadium were really strong right from the word go, and you could feel it in the band's playing. Bruce Hornsby took the vocal duties, and showed why everyone has been asking for him to sing more the last few shows.
Up next, Estimated Prophet. This was a holy shit moment. The band was on fire, and you only had to look three songs into the set list to feel major momentum. The jams were ferocious, Bobby's vocals were strong, and Trey was exhibiting skill and strength in his leads. That did come to a sudden ending when it just seemed like the song was over a second ago, not really wrapped up, just over.
Bruce Hornsby came in again on vocals walking the band through the Garcia song Built to Last. I'm not sure that anyone was aching to see that song, but it was proficiently played. Up next, another common prediction held up with the Sunday show classic, Samson and Delilah. Weir's voice was clear and assertive, and the band jammed hard. The highlight for me was a truly inspired solo by Jeff Chimenti on keyboards. It's easy for Chimenti to get lost in the shuffle on a stage that contains current and future Hall of Famers galore, but he is no slouch by any means. His ever present grin, his steady hand, all lull you into a sense that you're just listening to a journeyman- and then BAM! he hits you with a strong B3 sound, and you realize, again, how great he is.
Review: The Dead Chicago July 3 2015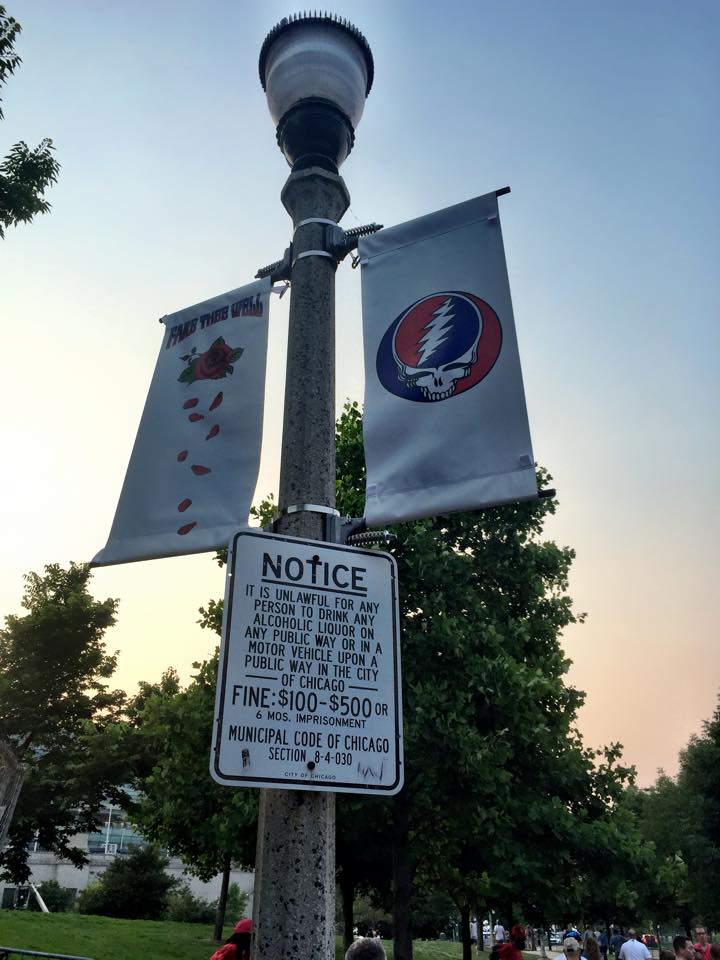 The second set as first set theme continued with the rarely performed Mountain on the Moon. To say that Phil Lesh is getting mixed reviews on his vocal quality would be extremely generous. But are we really coming to these shows to see who the best vocalist is? Are we coming to measure them to see how they stack up historically? Those who did are busy flaming in facebook groups as to how this should be better or that should be. Me, I'm just happy to see Phil Lesh perform Mountains on the Moon- why complain?
The closer of set one was another set two staple, Throwin Stones. Weir had no problem remembering the millions of words that song seems to contain, and illustrated his greatness as a performer and song writer. The best tricks, the most impressive, are the ones that the performer does with ease, making it seem like there's nothing to it. Weir achieved this with Throwing Stones, a complicated and twisting song, executed perfectly, whose end result sounds simple. A friend described it as an Angry T Stones- and the lyrical content is political and full of challenge- and it was great to see Weir strut his rock star stuff.
The set break was lengthy, as they have been this whole run, but that was fine giving everyone a chance to catch up with friends. Before set two began, there was a great fireworks display. Let's just say that the combination of a celebrating Dead crowd and exploding colors in the sky, that's a slam dunk.
As the band took the stage with the explosions dissipating, the jam formed. The swirling tones and notes coalesced into a funnel cloud of sound, eventually spilling joyfully into Truckin. This selection, one of only a few repeats from California, let us know that repeats could be coming in tonight's show. It was a strong version, and almost seemed like a way for the band to vanquish the previous version played last week.
Fresh Hops out on national tour!

A colorful and exploratory Cassidy followed next with a deep jam section. One of the surprising things about this band in its current state is how quickly they've been adept at building three dimensional sound scapes, exploring jams collectively through interplay and alchemy. We could easily dream of what it might be like for this band to play more than just five shows, and to experience what dozens or hundreds of shows might have bred. Cassidy was a look into that path that will not be taken, but can be felt.
Trey took the vocal reins with a solid version of Althea. Another repeat from California, it also had a feeling of, "well, we did this one, but we didn't do it quite right so now we're going to try and get it right." I wasn't in Santa Clara, and I'd have to review the recording to know if that feeling was accurate- but in the end, does it matter? That's the feeling I had when they were playing it, so it's true to me, now.
Terrapin Station came in hard and strong. Bob Weir held down the vocals which contained the hefty and dark jams that you want out of this epic piece. The band was ableto wring every ounce out of each of these songs, making sure to play with the material but not the structure- feeling out the edges of the jams without veering too far afield.
Drums and Space followed and defy review really. The giant video screen opposite the stage came to life again, and was a giant. The regular stage set up featured video screens to each side of the stage and a lengthy one above the stage. A circular lighting truss was above the drummers, and there were lights everywhere, not just on the stage. Lighting was liberally spread all over the stadium and at times the whole place look like a giant lit dance floor. The video screens were a great mix of sliding photos, live action video coverage, and integrated imagery from mail order envelopes and general band art. The necessary doses of liquid light psychedelia was evident, and the overall visual quality was quite high- mix that in with some Chicago sky line, perfect weather, and tons of people watching eye candy and this was a visually pleasing run of shows for sure.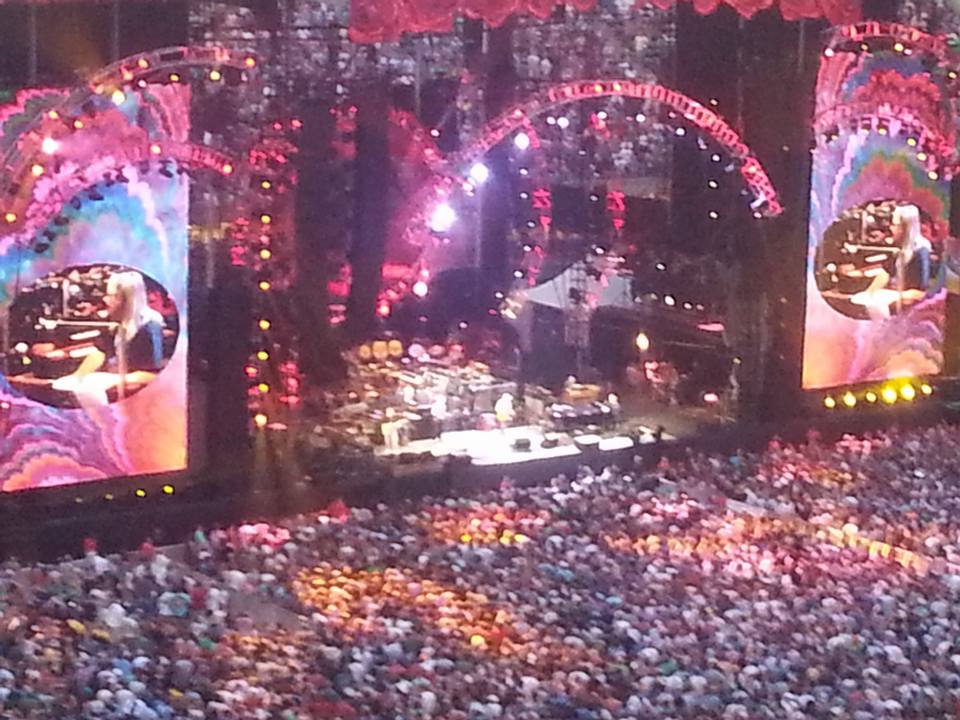 The drummers didn't really leave the stage as they were joined by the instrumentalists and space gave way to more organized jamming. The band coalesced into the ancient Phil Lesh classic, Unbroken Chain. The song was a clear illustration of the depth to which Anastasio had to master in this his most challenging assignment. I can't imagine what it was like to learn 18 plus hours of music, never mind this meandering and ever changing song. It doesn't take Anastasio to put out a great version of Fire on the Mountain say, but to lay out Unbroken Chain, you need someone with amazing chops and ears, and Anastasio displayed his vividly throughout the weekend, including this Unbroken Chain.
A bit of a surprising choice next with the Garcia song, the Days Between up next. Bob Weir handled the vocals and gave them a lot of emotional import. The song is a tad lumbering no matter when it was played, and perhaps was not a popular set list choice. But you could feel Weir's emotions in it quite readily, and you could easily pretend you were feeling his memories of Jerry along with the rest of us. That may not be true, but was easy to feel from the performance.
The band picked it up with the Buddy Holly classic Not Fade Away. Moreso than nearly any cover song, this tune feels like the Dead own it in the way they choose to perform it. Not a difficult song, but a real honest expression of their existence as a rock and roll band, and a musdical expression of the unbreakable bond between band and fans. The entire audience was clapping rhythmically along, and by the song and set's end, the vocal chanting between the band and fans was booming. We could do no better collectively than this musical embrace, the connection so long established reinforced, the love so deeply etched between audience and performer. There may never have been a stronger bond created between a band and its fans, and the river flowed from the stage to the audience to the stage to the audience, you could never find its source nor end. An emotional and power packed climax to a show filled with highlights.
The audience continued to chant "You Know our Love Will Not Fade Away" for the minutes that it took the band to gather themselves after the second set and before the encore. There was a frozen moment in time quality, you could feel the moment stretch backward in time, to past shows, past tours, a past life for all of us. You could also see it stretching into the future, but the path is not as clear, the destination and guides, less clear.
Phil Lesh came back out on stage and as his custom the last ten plus years, reminded us that he almost wasn't alive to party with us. The band joined him on stage and the obvious but somehow still unexpected Tough of Grey took us into the encore. Various band members took turns providing the lead vocals. You just knew that they could not end on that note, and even though it was great- it just didn't feel like the end. We Will Survive, the perfect conclusion to the night for sure, was a welcome message for all of us.
The band lingered, and the audience lingered, and there was just zero indication that it was over. The band took the stage and performed an acoustic version of their early classic, Attis of My Life. It was the emotional moment everyone sought, and you could just feel the power flowing between us all. Was it a great vocal performance or version of the song? Well, no. But it was the backdrop to our tearful goodbye. The video screens were paying a touching tribute to all of the musicians who have come and gone through this band, slowly playing to growing applause. One after another, people cheered the players who created this scene, this band, this lifestyle- from Pigpen to Garcia, Keith and Donna, to Brent Mydland and even Vince Welnick.
As the performance was coming to a close the photo selections were chiefly from the core four members and the ever present Jerry Garcia. The final slides of pictures included our newest friends and heroes, with fans heaping praise on Chimenti, Hornsby and Anastasio as their photos were displayed. Finally the photo of the current band all together signaled the end of the night. As everyone was leaving, Mickey Hart gave us all something to consider as we were trucking off into the night and into the rest of our lives. "Be Kind."
This weekend in Chicago was a fitting tribute, a well executed (in the end) concert and family reunion that will energize and inspire us for years to come. While no one believes that this is it for any of these musicians, it did have a strong feeling of finality for this band. The great experiment has played out over five decades, and those of us who saw it, know that we experienced something that is unique in American music: a true connection between musician and listener.
SET ONE:
China Cat SUnflower->
I Know You Rider
Estimated Prophet
Built to Last
Samson and Delilah
Mountainns on the Moon
Throwing Stones
SET TWO: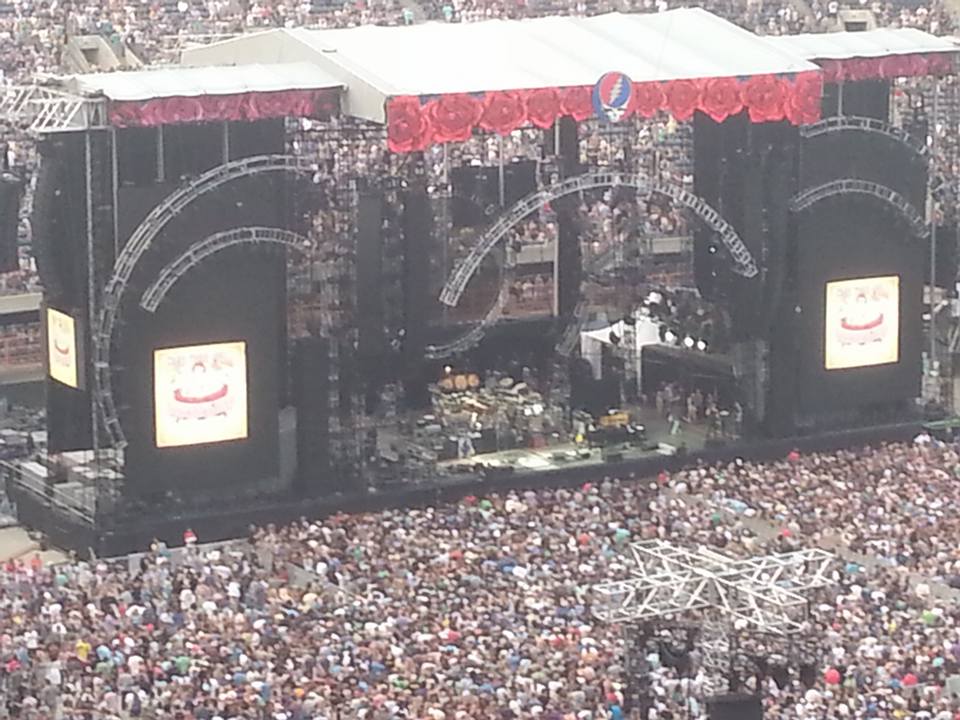 Fire Works
Jam -> Truckin
Cassidy
Althea
Terrapin
Drums into Space ->
Unbroken Chain
Days Between
Not Fade Away
E donor rap
Touch of Grey
E2: Attis of my Life
Group bow
MORE ARTICLES:
Review:  U2 Chicago July 2 2015
Review: The Dead Chicago July 3 2015   
Fresh Hops out on national tour!
Chris Robinson Brotherhood, Melvin Seals and JGB with John Kadlecik The Warfield June 26 2015 by Steve Kennedy
Review of the Start Making Sense Boston Boat cruise from June 28 2015
Check out the review of two nights of My Morning Jacket in Columbus, OH.

RUSH R40 review June 23 2015 Boston MA
Adam Ezra Group release new video for Let Your Hair Down while out on national tour.

Check out the review by Marc Lovely of The Avett Brothers and Shovels and Rope from June 14 2015.
Check out the review of Golden Gate Wingmen at Toad's on June 14 by Miles Hurley.
Check out the review of Rusted Root, the Wailers and Adam Ezra Group from Hampton Beach, NH here.
Mike Gordon reviewed in Columbus OH.
Upcoming John Kadlecik and Golden Gate Wingmen tour dates.

Check out the preview of this season's Boston Rock and Blues cruises.
Check out the review of King's X by Joe Patten
Check out the featured artist article on Erin Harpe and the Delta Swingers.
Kung Fu Shakes up their personnel lineup 
Strangecreek 2015 review and overview