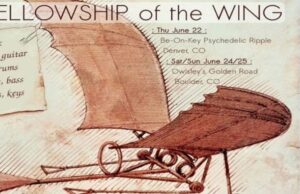 John Kadlecik announces the premier of the Fellowship of the Wing plus Spring and Summer tour dates solo and with the John Kadlecik Band...
John Kadlecik Acousti'Lectric Dante's Frostburg, MD January 13 2017 By Jason Swope To submit a review or story for consideration hit us...
Golden Gate WingmenThe Met, Providence RIAugust 14 2016To Submit a review or story for consideration hit us at 
[email protected]
out the Live Music News and Review.com Facebook...

Golden Gate Wingmen
New Flights Announced
More to Come..
Despite the rumors of a grounding of the most joyous flights in improvisational music, Golden Gate Wingmen have announced some plans for Spring of 2016. The super group is comprised of members of DSO, Dead and Company, Furthur, Phil Lesh and Friends, Ratdog, Primus, Billy and the Kids and Tea Leaf Green- all within one four piece band..