We are saddened to report on the passing of Eddie Van Halen.
To say that Eddie Van Halen was an influential guitarist is like saying that Beethoven was a good piano player. What Eddie Van Halen did is repeated only a few times in the history of rock and roll- he changed everything.
Multiple news outlets are reporting on his passing, at the age of sixty five.
It is beyond question that along with Jimi Hendrix, Eddie Van Halen is the most influential guitarist in rock music history. His implementation of the finger tapping technique changed rock music, and once his innovations hit the air waves, every kid in the world wanted to play like him, to be him.
Eddie's son Wolf announced his father's death via twitter- after a prolonged battle with cancer: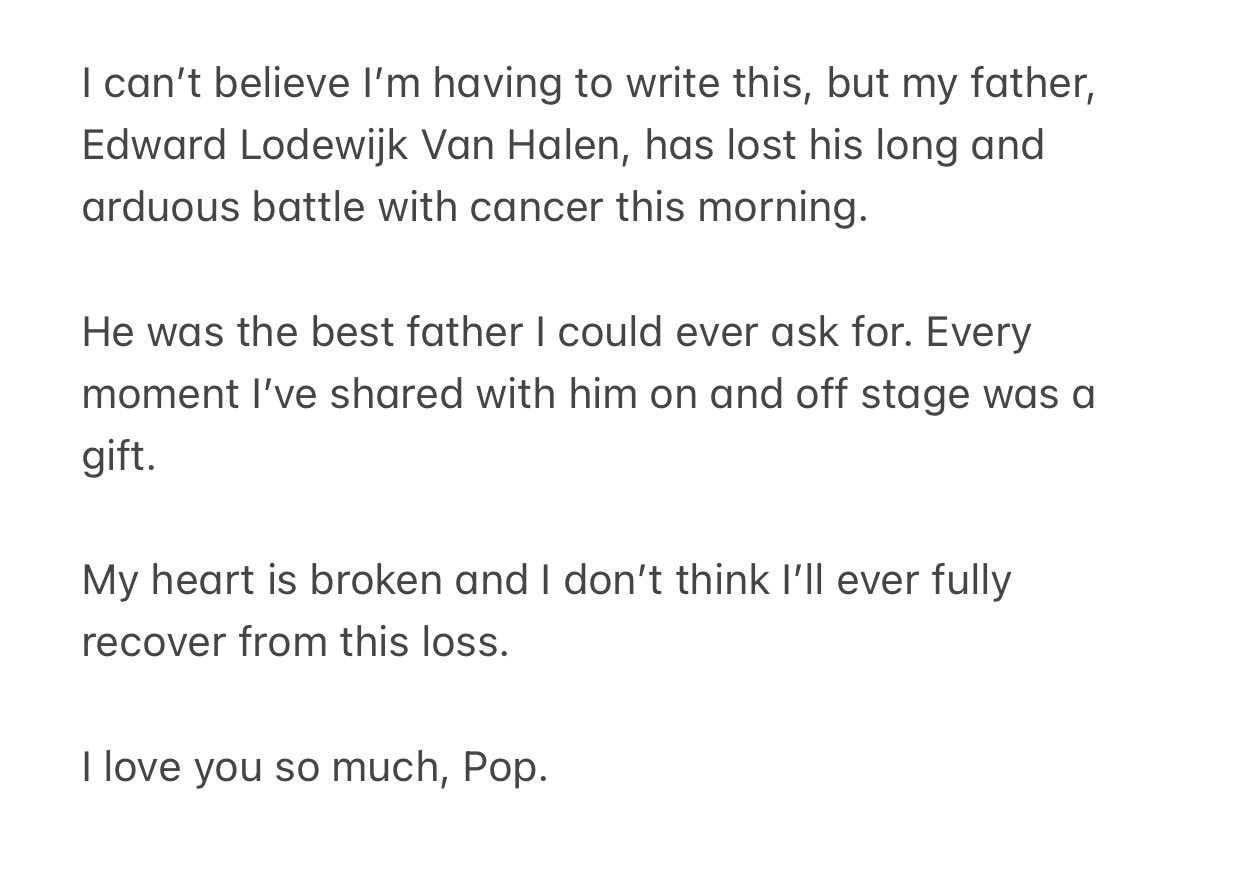 Van Halen was an immensely popular rock band selling nearly 100 million albums over a career that spanned decades and multiple lead singers. Eddie was the star of the show with his acrobatic guitar work lighting up arenas worldwide.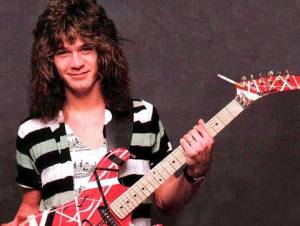 Eddie Van Halen was born in the Netherlands and grew up in Pasadena California where he formed the band Van Halen with his brother Alex on drums. They were joined by singer David Lee Roth and bass player Michael Anthony where they became a ground breaking band that changed all of the norms of the hard rock radio sound. Their mixture of technical perfection on their instruments with perfectly timed song writing and an uncanny sense of humor and joy led them to being one of the most successful bands in recorded music history.
Guitar World magazine touted "Eruption" which was on Van Halen's debut record as one of the top guitar solos of all time. That album was released in 1978 and illustrated to the world why Van Halen was a band on fire- ready to change everything. Van Halen's relationship with his guitar was something brand new, his interpretation of how to play completely re imagined guitar technique and how it would relate to rock music.
Unlike nearly every band in rock and roll- Van Halen survived a high profile lead singer change. Dynamic front man David Lee Roth parted with the band, whether or not it was voluntary, after the '1984′ album, and was replaced by the red rocker Sammy Hagar. The band didn't just survive, they thrived with multiple releases and continued an international touring rampage unrivaled by nearly any band. Eventually Van Halen split with Hagar too, briefly hired singer Gary Cherone, and eventually reunited with David Lee Roth. Eddie Van Halen continued to lead the band through personnel changes including ushering bass player Michael Anthony out of the band in 2004, to be replaced by his son Wolfgang.
Van Halen famously gained his sobriety in 2008 after leading a lifestyle that was legend even for rock and roll. Van Halen continue to tour until Eddie's health challenges prevented them from performing live.
He battled cancer since his initial diagnosis of tongue cancer in 2000, due to being a very heavy smoker. At that time he had surgery to remove a portion of his tongue. In 2007 Valerie Bertinelli and Van Halen had a public divorce, attributed to his drug and alcohol abuse. He entered into rehab and has been clean since 2008. He later married Van Halen's former publicist, Janie Liszewski in 2009.
In 2002 Van Halen was declared cancer free until 2019 when the cancer returned this time as throat cancer. In that year it was reported that he was near death, and then was seeking alternative treatments in Europe to battle the disease.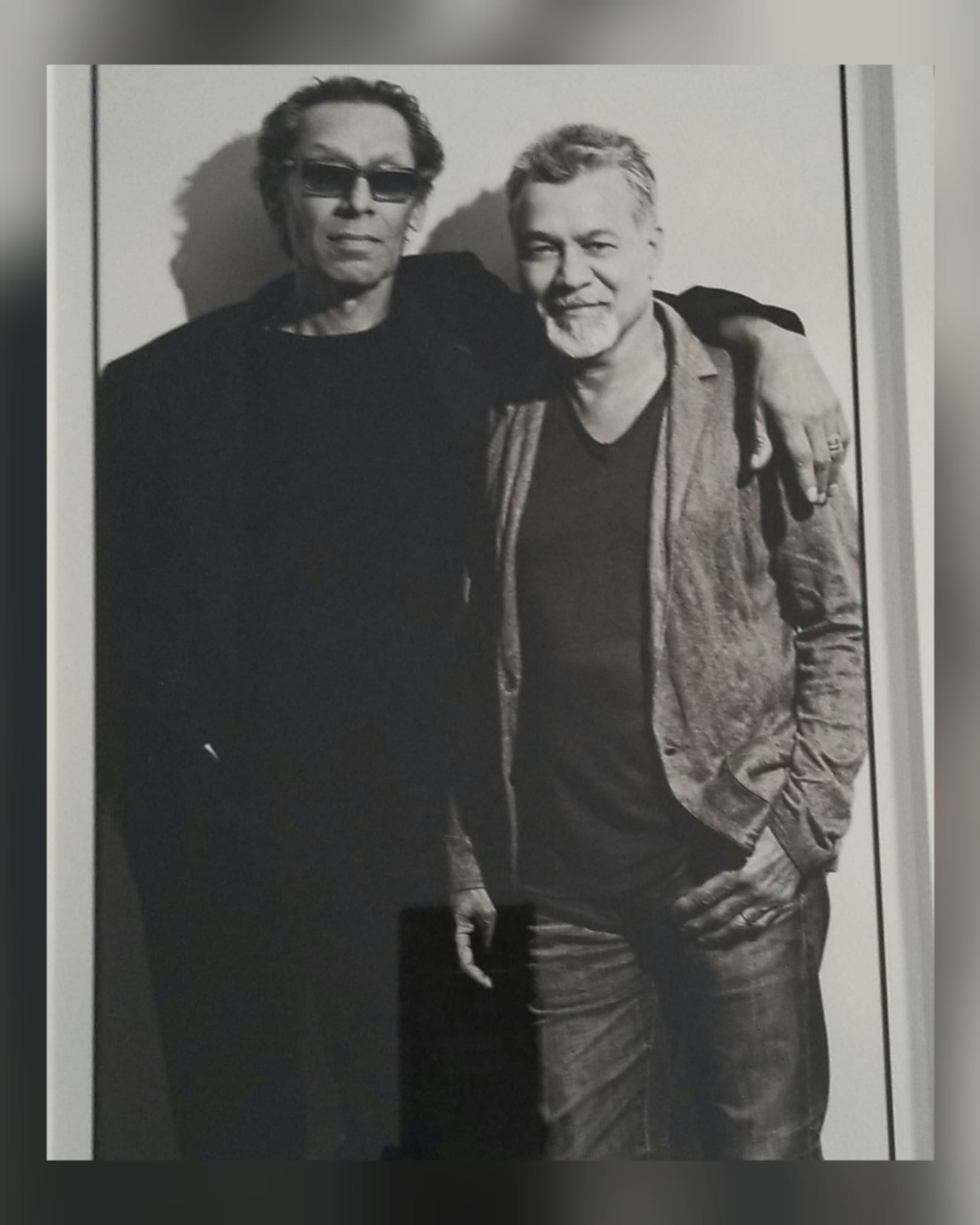 Van Halen is survived by his wife, Janie Liszewski and his son, Wolfgang, born in 1991 and his brother and bandmate Alex Van Halen. Van Halen was first married to television star Valerie Bertinelli (Wolfgang's mother), a union which lasted for twenty six years.
Rest in Peace Eddie Van Halen. Our best wishes go out to his family and his legion of fans.
Thank you to Sharon Budman for reporting assistance.
Drop us a line at [email protected] to submit your live music news, concert review, or concert memory.