We are sad to report that Camp Creek 2020 has been postponed due to Coronavirus.
In an official statement on June 25th, the promoters made this announcement,
"It is with heavy hearts that we have made the difficult decision to cancel Camp Creek Odetah 2020. While we remained hopeful and diligent in our efforts to deliver a safe and magical weekend, it unfortunately is just not to be this year. A great deal of work and money have been put into this show and we are very disappointed that these efforts will not bring Camp Creek 2020 to fruition. Your support of Max Creek and the event has been overwhelming and comforting in these difficult days. To that end we offer all of you who have purchased wristbands, RV hookups, Popup camping and parking passes to date 2 options going forward;
1. We are happy to refund your purchase, OR
2. Again, ONLY to those who have purchased 2020 patronage to date; roll your purchase over to 2021 and Max Creek will perform a special private concert for you on Thursday Night, August 5th, 2021 at Odetah Camping Resort at NO additional charge from Camp Creek/Rider Productions or Odetah for staying the additional night. There will be no other camping allowed on Thursday night, it will be your private event!
NOTE: If you retain (roll over) your locked in 2020 purchase you will be automatically welcome at the 2021 event, the cost of 2021 will most likely increase due to the unrecoverable expenses incurred for the non 2020 event.
We look forward to Camp Creek Odetah August 6-8 2021 being a climactic Celebration of Max Creek's 50th Anniversary and just can't wait, we care about and love you all; be well, be safe, take care of each other and we will sing & dance together again soon. Peace and Harmony.
~Sally & John Rider and Max Creek
–>> Go to https://www.campcreek.rocks/option-page to select your refund/rollover option!"
This was the original festival information for 2020.
Jam band legends Max Creek and Rider Productions, LLC are pleased to announce the return of Camp Creek, a three-day festival that will take place from July 31st-August 2nd, 2020 at Odetah Camping Resort in the woods of southeastern CT. Camp Creek also has a generous Lifetime Sponsor in Telefunken Elektroakustik. Max Creek will headline with two performances on Saturday and Sunday. The rest of the lineup has just been announced today.

ABOUT CAMP CREEK
The organizers of Camp Creek are excited to hold Camp Creek once again at Odetah Camping Resort after a wildly successful festival last year. Creek Freeks (the endearing nickname for diehard Max Creek fans) of all ages will set up at Odetah Camping Resort, off Route 2 in Bozrah CT, for a weekend of camping, music, and fun.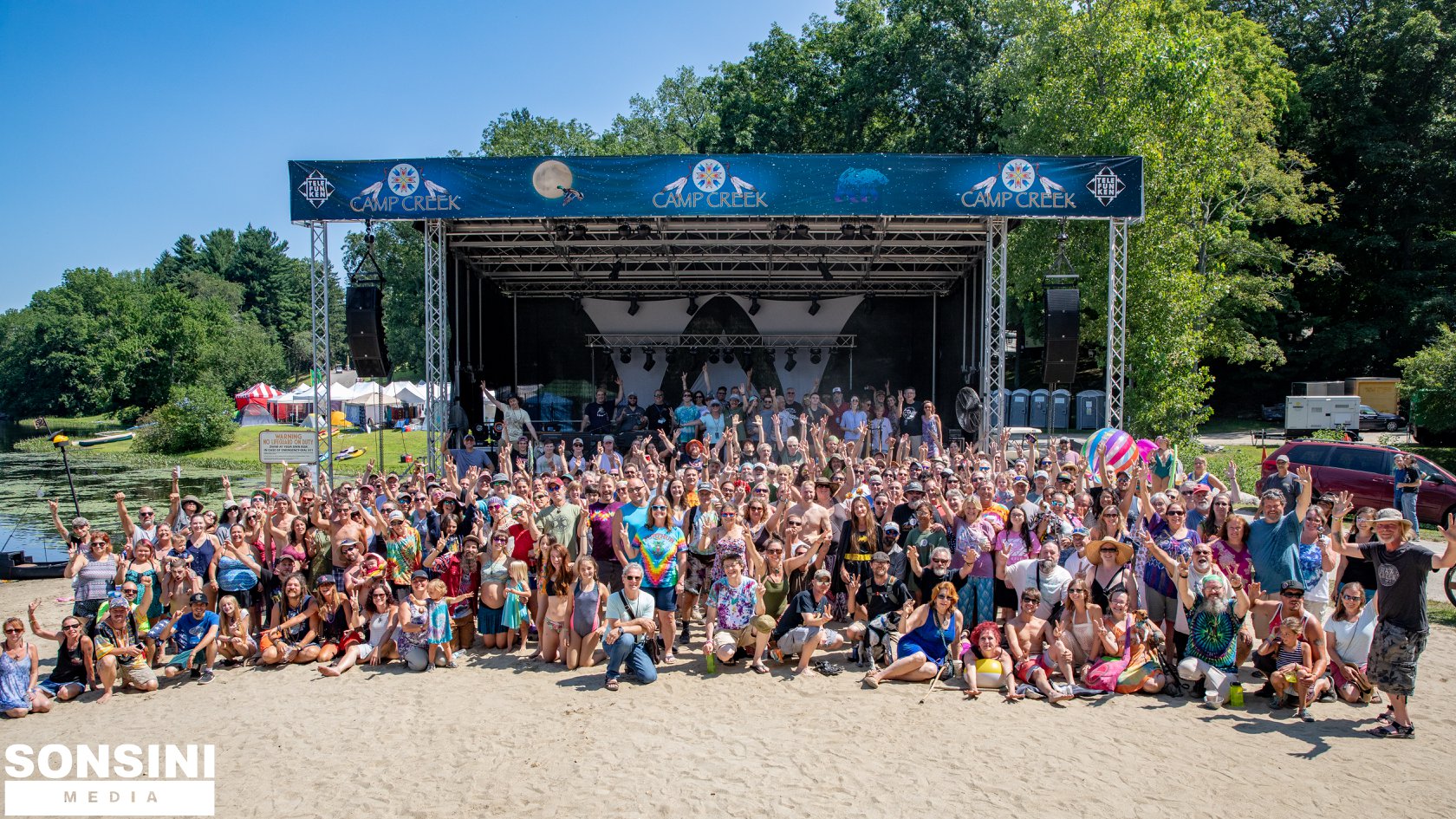 Camp Creek is one of the region's longest-running camping festivals, and Max Creek, formed in 1971, is one of the Northeast's most enduring touring bands. First organized in 1983 as Max Creek's annual get-together for fans and friends, Camp Creek has shifted locations from Indian Lookout Country Club, its home from 1994-2016, to Odetah Camping Resort. The festival features long sets by Max Creek on Saturday and Sunday, with alternating acts on two nearby stages throughout the weekend.
Several of Max Creek's side projects join the roster for this year's Camp Creek. J. Stanley's Drummers for Peace & Equality, Bill Carbone's Frank Zappa tribute The Z3, Mark Mercier's The Marks Brothers, and Scott Murawski's Depth Quartet will all perform.
The festival lineup rounds out with returning friends Creamery Station and The Kings, plus new-this-year Adam Ezra Group, Wurliday, Bob Marley tribute Duppy Conquerors, Cold Chocolate, and The Decisions. The Creek family is so excited to bring their beloved "Creek Freeks" a festival to remember fondly for years to come.
ABOUT ODETAH CAMPING RESORT
Odetah embodies camping at its very core and caters to all levels of campers. Whether pitching a tent for the first time or a seasoned veteran driving a Class A motorhome, Odetah caters to your every need. Their sites are as unique as Odetah itself and offer many options including waterfront sites, private locations, and the perfect group camping areas. Odetah campers can relax, refresh, and retreat anywhere within our picturesque wooded hillside. The Odetah staff will provide a first class camping experience to you, your family, and friends. They pride themselves on being great ambassadors to the outdoor leisure industry and hope that everyone will cherish camping for generations.

Odetah Camping resort offers car camping, tent camping, pop-up camping, and RV camping- whatever needs you may have, Odetah can provide. No, seriously. . . We're not just saying that. Here's just a small sample of what you CAN do at Odetah Camping Resort! Check out the crazy amount of amenities below:


Max Creek At The Beach Stage On The Lake!
Dancing In The Sand And Sun!
BYOB Or Get Cocktails From The Specialty Beach Bar
Glass Bottles Are Fine. You Can Bring Your Favorite IPA!
Food Trucks Being Brought In Specially For You
Bring Your Own Grill And Food If You Prefer
Friendly Leashed Dogs Welcome
Car Camping Included
Fire Pits
32-Acre Lake With Private Sandy Beach
Rowboat / Kayak / Canoe / Paddleboard Rentals
40′ X 60′ Swimming Pool
15′ X 7′ Jacuzzi/Spa
Attractive Wooded Sites
Dog Park
WiFi Internet (FREE)
Exceptional Restrooms / 3 Large Bathhouses
Free Hot Showers
The Oasis Lakeside Cafe
The Scoopshack – Ice Cream
Knolls And Holes Miniature Golf
Tennis/Basketball/Shuffleboard
Horseshoes / Beach Volleyball
Grocery / Camping Supply Store
Gifts / Souvenirs / Odetah Apparel
Adult Sun Porch Lounge With Lending Library
Splashpad
Spacious Pull-Thru Sites
Full Hook-Ups / 50 and 30 Amp Service
Water/Electric /Greywater Sites
Handicapped Access
Blu-Ray™ Movie Theater
Social Hall
Playgrounds
Outdoor Fitness Gym
Indoor Fitness Gym
Group Safari Area With Private Pavilion
Swimming
Fishing
Laundry Facilities
Propane LP Gas (No Motorhome Fill)
Dumpstations
Onsite Pumpouts Available
Odetah Tram (Park Transit Vehicle)
See what we mean? This ain't your average music festival. And of course it isn't- it's Camp Creek!

ABOUT MAX CREEK
Max Creek are true pioneers of the electric rock jam, with five decades of experience launching musical adventures with a rich repertoire of originals and uniquely interpreted gems. Each set is a journey for audience and band alike, chasing muses without a net and bringing it all back home to the roots again. The outfit released its first record in 19 years, entitled 45 and Live, in 2019 and is poised to celebrate its 49th "Creekiversary." For more info, check out www.maxcreek.com

ABOUT RIDER PRODUCTIONS
Rider Productions is a full-service event, travel, and production company. Since 1994 they have produced innumerable events across the country including festivals, concerts, corporate events, and just about any other event you can think of. As a family-run business, they are proud of the next generation of their family technically supporting all aspects of their endeavors. Find them at www.riderevents.com.
FESTIVAL INFO
Camp Creek
Friday, July 31st – Sunday, August 2nd, 2020
Odetah Camping Resort
38 Bozrah Street Extension, Bozrah, CT 06334