Solid Sound Wilco's Music & Arts Festival at Mass MoCA in North Adams, MA June 28-30 2019

As this year's Solid Sound – Wilco's Music and Arts Festival happening June 28-30 at MASS MoCA in North Adams – moves steadily towards selling out, the band is pleased to expand upon the already-stacked offering by announcing this year's comedy and author lineup. We are thrilled to announce that Solid Sound will be partnering with Penguin Random House to bring you authors in discussion and dynamic interactive programming. Friday, June 28th will feature Penguin Random House Presents: Authors in Discussion, with John Hodgman (Vacationland: True Stories from Painful Beaches), Abbi Jacobson (I Might Regret This: Essays, Drawings, Vulnerabilities, and Other Stuff and Carry This Book, and Nate Chinen (Playing Changes: Jazz for the New Century and former New York Times music critic). On Saturday, June 29th, John Hodgman's Comedy Cabaret will welcome comedians Rhea Butcher, Aparna Nancherla, The Doughboys, and Jean Grae.
Finally, on Saturday, June 29th, and Sunday, June 30th, Penguin Random House curates a robust schedule of activities for festival-goers. Solid Sound will welcome Lifehacker columnist, longtime New York Times contributor, and School of Visual Arts faculty member Rob Walker, author of the upcoming Art of Noticing, for an interactive hike that will spark your creativity and inspire you to notice the everyday joys that surround you. Russell Ginns, game designer and author of the Samantha Spinner series, will take kids on an interactive global adventure with his amazing writing secrets, games, activities, and more. Finally, go inside the original recording session of Run DMC and Aerosmith's groundbreaking song "Walk This Way," with author and journalist Geoff Edgers—featuring never-before-seen footage. And after all that, take a breather with your kids in an exclusive Mad Libs Lounge, with custom Solid Sound activities, coloring, temporary tattoos, and more.
Conceived by Wilco and inaugurated in 2010, Solid Sound will again present Wilco as hosts and headliners and will feature an eclectic, Wilco-selected musical lineup of indie, rock, jazz and more, as well as performances by Wilco members' side-projects. "After almost two years off the road, we're going to be so excited to be back on stage together," says Wilco's Jeff Tweedy. "I can't wait to have that feeling again." In addition to the expansive galleries of MASS MoCA, the festival includes a fully programmed comedy stage, naturalist/outdoor activities that exemplify the spirit of The Berkshires, a broad variety of family activities, local food, craft beer and cider, and more.
This year, SSF is pleased to welcome Courtney Barnett, The Feelies, Tortoise, John Hodgman's Comedy Cabaret, Jonathan Richman, Clipping, Cate Le Bon, The Minus 5, Lonnie Holley, and much more. Solid Sound Festival is never just about the music, and this year will feature Authors in Discussion, presented by Penguin Random House, a sound installation from Genelec, a Reverb music auction, axe throwing, a Ghost Town screen printing workshop, and of course, MASS MoCA — more than 250,000 sq. ft. of galleries including long-term installations by James Turrell, Laurie Anderson, Sol LeWitt, Jenny Holzer, and Anselm Kiefer.
In addition to the expansive museum galleries of MASS MoCA, the festival includes a fully programmed comedy stage, outdoor activities that take advantage of the natural environment of northern Berkshire County, an engaging roster of family activities, local food, craft beer and cider, and more. Finally, it would not be Solid Sound Festival if it didn't feature two headline sets from Wilco, the band's first U.S. performances in nearly two years!
We're thrilled to announce that Cheryl Strayed, #1 New York Times best seller and award-winning author of Wild: From Lost to Found on the Pacific Crest Trail, Tiny Beautiful Things: Advice on Love and Life from Dear Sugar, Torch, and co-host of the WBUR podcast Dear Sugar Radio, will now be joining the Penguin Random House Authors in Discussion panel on Friday evening, along with authors Nate Chinen and John Hodgman. Due to a schedule conflict, Abbi Jacobson will no longer be in attendance.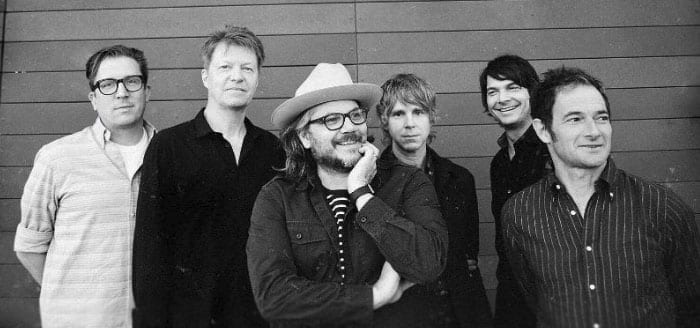 Additionally, Jeff Tweedy and Solid Sound are pleased to announce that this year's festival will give fans their first opportunity to purchase a new 2LP/2CD set of Jeff's solo albums, WARM/WARMER. While WARM was made widely available in late 2018, WARMER was a Record Store Day exclusive, limited to just 5000 copies, all of which sold out immediately. Now fans will have the opportunity to own both albums on vinyl. The WARM/WARMER vinyl version features 22 songs by Jeff Tweedy, including the never before released bonus track "Drawing From Memory (Charlie)."
The album packaging features a gatefold LP bound like an art book in a linen fabric with metallic embossing, tipped on images and a full book of lyrics, photos and liner notes by George Saunders. The double album is available for preorder today on at JeffTweedystore.com. On July 12th, WARM/WARMER will be released widely on LP and CD and WARMER will be available on streaming services for the first time.
"Jeff Tweedy and Wilco always pushes us, in the best possible ways," notes MASS MoCA Director Joseph Thompson. "Solid Sound raises our game, introduces us to exciting music, creates unexpected juxtapositions, and brings in lots of new friends — both on stage and in the community of music lovers that call this place home for three glorious days. It's a ton of fun, and we can't wait."
Weekend, Friday and Saturday passes are sold out. Sunday single day passes are still available (though going fast!) and can be purchased at solidsoundfestival.com.
SOLID SOUND FESTIVAL 2019 DAY BY DAY SCHEDULE
FRIDAY, JUNE 28 – gates at 4:30pm
5:30pm – Penguin House Presents: Authors in Discussion with John Hodgman, Cheryl Strayed, and Nate Chinen (Hunter Center)
6:30pm – Lithics (Courtyard C)
7:30pm – Courtney Barnett (Joe's Field)
9:15pm – Live Karaoke with Wilco (Joe's Field)
11:15pm – DJ Funkhauser (Courtyard C)
11:30pm – Tortoise – Play Live to Film "La Jetée" (Hunter Center)
11:15am – Rafiq Bhatia (Courtyard D)
SATURDAY, JUNE 29 – gates at 10:00am
12:00pm – Skyway Man (Courtyard C)
12:00 pm – John Hodgman with Jean Grae & Doughboys (Hunter Center)
12:00pm – Story Pirates (Building 10 3rd FL)
12:45pm – Foxwarren (Courtyard D)
1:20pm – Author Discussion: Geoff Edgers (Building 10 3rd FL)
1:30pm – Julian Lage Trio (Courtyard C)
1:30pm – Circus Smirkus (Joe's Field)
2:15pm – Milo (Courtyard D)
2:00pm – John Hodgman with Jean Grae & Aparna Nancherla (Hunter Center)
2:30pm – Story Pirates (Building 10 3rd FL)
3:00pm – OHMME (Courtyard C)
3:45pm – The Minus 5 (Courtyard D)
3:50pm – Author Discussion: Russell Ginns (Building 10 3rd FL)
4:00pm – Circus Smirkus (Joe's Field)
4:00pm – John Hodgman with Jean Grae, Doughboys, Rhea Butcher, and Aparna Nancherla (Hunter Center)
4:45pm – Mdou Moctar (Courtyard C)
5:00pm – Story Pirates (Building 10 3rd FL)
5:30pm – Cate Le Bon (Joe's Field)
6:30pm – Tortoise (Courtyard D)
7:30pm – The Feelies (Joe's Field)
9:15pm – Wilco (Joe's Field)
11:15pm – Clipping. (Courtyard D)
11:30pm – DJ Funkhauser (Courtyard C)
SUNDAY, JUNE 30 – gates at 10:00am
11:15am – Rough Francis (Courtyard C)
12:00pm – Lakou Mizik (Courtyard D)
12:30pm – "Fishing" with Jon Hamm, Glenn Kotche, and Danielle Agami (Hunter Center)
12:45pm – Story Pirates (Courtyard C)
1:30pm – Wand (Courtyard D)
1:30pm – Buck Meek – Gallery Performance
1:45pm – Quindar (Building 10 3rd FL)
2:00pm – Jonathan Richman (Joe's Field)
2:30pm – Lonnie Holley (Courtyard C)
3:00pm – The Autumn Defense: Acoustic with Strings (Hunter Center)
3:30pm – CUP: Nels Cline & Yuka C Honda (Courtyard D)
3:00pm – Rani Arbo & Daisy Mayhem Family Show (Building 10 3rd FL)
5:00pm – Jeff Tweedy + Friends (Joe's Field)
POP UP PERFORMANCES
FRIDAY, JUNE 28
4:20pm – Tom Schick Genelec talk
6:00pm – Expandards Gallery Pop-Up
SATURDAY, JUNE 29
1:00pm – All Folks Present
1:40pm – Mellotron Variation feat. Pat Sansone
2:00pm – Tom Schick Genelec talk
4:00pm – Mellotron Variation feat. Pat Sansone
4:20pm – Tom Shick Genelec
SUNDAY, JUNE 30
1:00pm – All Folks Present
1:40pm – Mellotron Variation feat. Pat Sansone
2:00pm – Tom Shick Genelec Talk
4:00 pm – Mellotron Variation feat. Pat Sansone
4:20pm – Tom Shick Genelec Talk